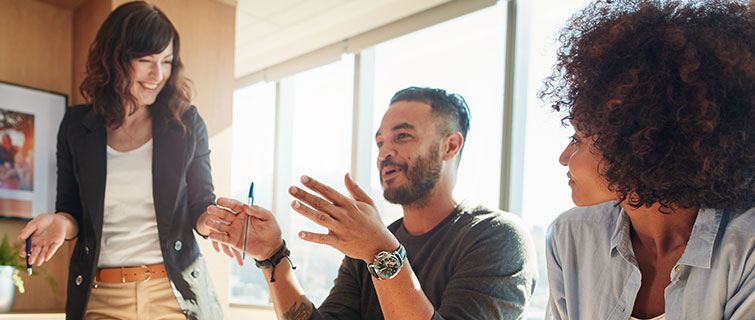 Since the 1980s, Georgetown's School of Continuing Studies has been a leader in training organization development (OD) consultants and change leaders to support the changing dynamics of the systems they serve. This academic history has been leveraged in a redesign process to meet the moment—where concepts of work and workplace are being reimagined, where diversity, equity, and inclusion (DEI) and OD have become inextricably intertwined, and where OD learning and practice can be maximized via multiple modalities.
Georgetown's Institute for Transformational Leadership is proud to offer the Executive Certificate in Organization Development Consulting & Change Leadership (ODCCL). Some key factors that set this program apart from other types of OD training include:
Diversity of Faculty
As a student in the program, you'll learn from experts and a broad range of practitioners. Led by a 12-member faculty team, each of the eight modules in the program is taught by at least two faculty members. Our faculty bring diversity in race, gender, age, sexual orientation, ethnicity, ability, and work experience. We have faculty who have worked as external consultants, as internal OD consultants, and as change leaders inside organizations. Our faculty also hail from multiple sectors—corporate, nonprofit, government, military, education, healthcare, and community organizing.
Cohort Model
Learning within a community is at the heart of the program design. You'll start and end the program with a cohort of students who will take the entire program together. As the program is highly interactive, you'll meet and work with more than 20 other students from a range of disciplines and backgrounds, which will deepen the learning experience.
Through Line Reflection
The ODCCL program is greatly enhanced by six powerful themes that are woven throughout the eight-month experience. You'll be encouraged to continually reflect on the content with the following through lines:
Use of Self (including Emotional Intelligence and Embodiment)
Power and DEI
Polarities and Complexity
Organizational Context and Culture
Application by Professional Identity (external consultant, internal consultant, organizational leader)
Multiple Modality Learning
Leveraging learning insights gained from the COVID-19 pandemic, the ODCCL program utilizes synchronous and asynchronous modalities that maximize learning in our time apart and together. You'll experience and learn multiple methodologies that support learning, dialogue, and decision-making—tools that can be applied to your work as a practitioner.
Practical, Applied Learning
For 30 years, this has been, and continues to be, a practitioners' program. Our faculty are all OD practitioners, and the program has been redesigned to harness the richness of the three primary streams of people this program attracts: external consultants, internal HR/OD/DEI professionals, and internal change leaders. You'll continually be invited to ground what is learned in current work situations, and will benefit from hearing the perspectives of others who occupy roles different than your own. You'll also continue to work with real-life applications of OD on current workplace challenges, such as managing the polarities of returning to face-to-face work, equity and justice in the workplace, and the impact that virtual and hybrid workplaces have on engagement, supervision, management, and culture. Most importantly, a cornerstone of the program is an OD project with a real client, which gives you the opportunity to apply the learning, to work in teams, to receive coaching and support, and to learn from each other's experiences.
Learn more