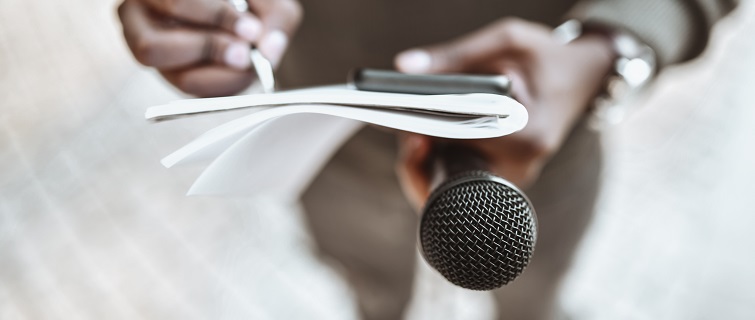 How do you cover a nonevent? That was one problem facing Caroline Jones, editor of the Washington City Paper, during the height of the pandemic.
With much of Washington, D.C., operating remotely, whatever news existed—that is, besides the pandemic itself—became harder to find. For arts reporting, the challenge was nearly impossible.
"A lot of times when we're writing about theater, they're profiles about artists tied to a show that might be coming out," Jones says.
But, of course, theaters had been closed for months.
"So how do you tell a story [that says] 'nothing's happening?'"
As it turned out, James Jarvis, then a student in the Master's in Journalism program at Georgetown University, had just the story Jones needed—and it was surprisingly compelling.
A Personal Tie
Since 2017, the journalism program has joined with the paper in a partnership that enables students from the Capstone class to work on in-depth, long-form stories for a City Paper editor. Over the years, the paper has published close to a dozen, Jones says.
"I usually come into class at the beginning of the first or second week and talk through what the City Paper is interested in and what topic areas we're excited about in a given year," Jones says. "And the students will take the opportunity to pitch if they've got an idea for their Capstone project already."
Jarvis, a former actor, suggested a story about how the area's theater companies—some of which operate on meager profits even in good times—were weathering the shutdown.
"It was personal for me because it's a community I've been a part of," Jarvis says. "It affected people I was very close to, and a lot of people were talking about it."
Like other sectors of the economy, theater companies had been hurting. And, like those other sectors, organizations that were less resourced going into the pandemic were more likely to fail. This was a scenario that would affect actors, directors, playwrights, stage crews, and the theater-going public—everyone with a stake in making the Washington region a theater hub.
Jones liked what Jarvis was pitching. "James was well-sourced in that community," Jones said, "and so he knew what questions to ask." Plus his story "was timely and timeless when the COVID news cycle was moving so quickly."
A Unique Voice
Some of the other student stories the paper has published include Mimi Montgomery's piece on local teen tennis phenom Natasha Subhash, now an All-American at the University of Virginia; and Fredora Kamara's account of the uncertain future of Langston Golf Course, one of the nation's earliest integrated courses.
Jarvis, who graduated in 2020, now works for InsideNoVa. Recently, he has written several stories about the resettlement of Afghan refugees in Northern Virginia.
He says the partnership gives students the kind of experience that is hard to replicate in class.
"It was a good experience for me because I was able to work with an editor in real time," Jarvis says. "And having a professional relationship with another news outlet while I was in school was helpful because it helped launch me, and it gave me the opportunity to publish something meaningful."
The collaboration also introduces students to the City Paper's unique voice, which is helpful for those more familiar with academic writing or the stylistic conventions of the Washington Post and The New York Times. That voice is informal and conversational, at times edgy and irreverent; but not, as Jones puts it, "outwardly rude or snarky."
"We like our readers," she says. "There's a friendliness and openness to the City Paper's voice that we try to convey to our readers in all the stories that we tell."
Learn more