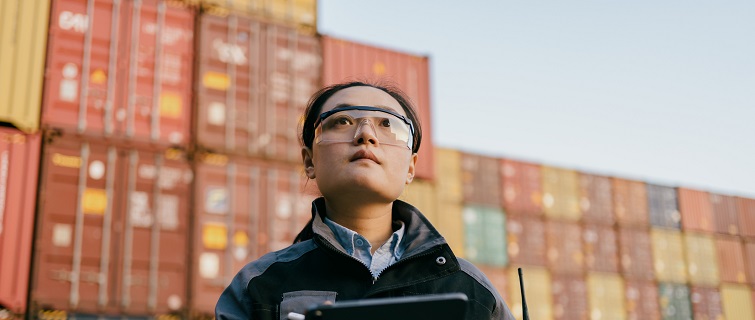 In 2019 you could be forgiven for not knowing what a "supply chain" is. But disruptions due to the COVID-19 pandemic have highlighted many crucial yet unappreciated segments of our economy and our lives—chief among them were those functions associated with the global supply chain.
Today, supply chain is a household term and the field is expanding. As of early 2022, the more than 200,000 supply chain openings posted on LinkedIn prove that supply chain professionals are in high demand. Jobs abound in planning, forecasting, analysis, buying, procurement, material management, production, logistics, contracting, fulfillment, and inventory management.
Career-seekers must be process-oriented, able to manage their time, think strategically, solve problems creatively, and reason analytically. They should also excel at building relationships, maintaining open communication, and adapting. Supply chain professionals must see the forest and the trees.
Career Options for Master's in Supply Chain Management Graduates
Careers in supply chain management are as varied as the products and services they deliver. Here is a sampling of possible supply chain management careers in this exciting field.
Buyer / Purchasing Manager
Purchasing Managers obtain the necessary supplies for a company to operate or produce an item. Wholesale and retail buyers purchase goods for resale to consumers; e.g., clothing and electronics. Purchasing Managers define user requirements; qualify suppliers, bids, and contracts; set terms of acquisition and performance; and manage supplier relationships.
Senior Manager of Demand Planning
The demand planning function ensures adequate supply for their organization or category. A Senior Manager of Demand Planning is responsible for inventory planning and analysis, replenishment ordering, mark-down strategies, and supplier outreach to ensure optimal inventory levels in warehouses and stores to grow sales.
Operations Manager
An Operations Manager oversees the production segment of a supply chain, including high-level HR duties like attracting talent, setting training standards, and codifying hiring procedures. Operations Managers focus heavily on improving processes, quality, productivity, and employee engagement.
Logistics Manager
The timing of supplies is critical for every supply chain. Logistics Managers play the important role of coordinating their real-time distribution, movement, and storage. Logistics Managers typically help assess and determine an organization's logistics strategies. On a day-to-day basis, they oversee inbound, outbound, and intra-network logistics operations, including obtaining approvals, building delivery routes, and processing shipments, making sure everyone gets paid and product is delivered on time.
Supply Chain Director
This supervisory role leads a team of procurement, planning, supplier quality assurance, and logistics professionals to optimize the supply chain for their organization. Supply Chain Directors are also responsible for ensuring supply chain initiatives and results are integrated into sales, operations, and financial planning.
These are just a few of the career paths available to graduates of the Georgetown University online Master's in Supply Chain Management. Our students acquire the skills, expertise, and networking connections they need for a successful supply chain management career.
Learn more