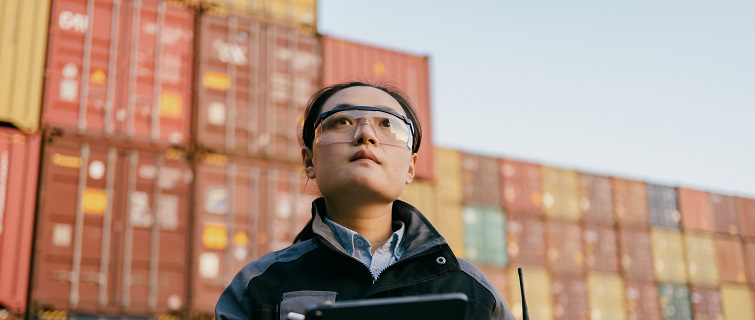 What Is Supply Chain Management?
Supply chain management is a key organizational function that is garnering increased attention from leaders and stakeholders. Supply chains create the required flow of materials and information to transform raw materials and components into needed end products for consumers and businesses. Supply chain managers have many responsibilities, including:
Cultivating and overseeing supplier relationships
Sourcing products that meet requirements at the best Total Cost of Ownership (TCO)
Ensuring that supplies are delivered on time
Managing inventory levels by forecasting demand, ordering raw materials and finished products, and keeping track of inventory levels using automated systems (such as barcode scanning)
Assessing and mitigating risks within the supply chain
While supply chain management is a critical function in any organization, it's often overlooked as a career path. Supply chain roles are exciting and varied as they interact with many external organizations and often operate in challenging and unpredictable market conditions.
Who Is a Good Fit for Supply Chain Management?
If you like solving puzzles, are not cowed by complexity, have keen analytical skills, and can think outside of lots of boxes at once, you might be right for supply chain management.
"I really enjoy that challenge and making sure everything is running smoothly, to think proactively and say, 'Where are we going to run into trouble? What are the issues?'" says Albertus Rowan, a logistics analyst with The Terminal Corporation near the Port of Baltimore and graduate of the Master's in Supply Chain Management program at Georgetown University. "And then, when something comes up, saying, 'Okay, we need to readjust' or, 'We had these assumptions coming into this week, and [things are] completely different, and we're going to just have to retool.'"
There is also a human side to this highly analytical job, because supply chain professionals often communicate with colleagues from around the world. For example, Faneva Durandisse, a supply chain planner for Luxury Brand Partners, LLC, near Miami, and also a graduate of Georgetown's program, is regularly in contact with stakeholders in Canada, China, and Italy.
"I'm a people person," Durandisse says. "And especially in this industry, you have to have those skills."
Is Supply Chain a High-Demand Job?
In 2019 you could be forgiven for not knowing what a supply chain is. But disruptions due to the COVID-19 pandemic highlighted many crucial yet unappreciated segments of our economy and our lives–chief among them were those functions associated with the global supply chain.
Seemingly overnight, supply chains around the world were fractured by myriad forces–including labor shortages and high demand for specific products (e.g., masks)–that were beyond the control of any one business, organization, or nation. When items like computer chips and toilet paper became scarce, suddenly the public became aware of the incredibly complex networks, sometimes involving a dozen or more countries, that move products from manufacturing, through the distribution process, and onto store shelves.
Today, supply chain is a household term and the field is expanding. As of early 2023, the more than 400,000 supply chain openings posted on LinkedIn prove that supply chain professionals are in high demand. Jobs abound in planning, forecasting, analysis, buying, procurement, material management, production, logistics, contracting, fulfillment, and inventory management.
Career Options for Master's in Supply Chain Management Graduates
Careers in supply chain management are as varied as the products and services they deliver. Here are five supply chain management careers in this exciting field.
1. Buyer / Purchasing Manager
Purchasing Managers obtain the necessary supplies for a company to operate or produce an item. Wholesale and retail buyers purchase goods for resale to consumers; e.g., clothing and electronics. Purchasing Managers define user requirements; qualify suppliers, bids, and contracts; set terms of acquisition and performance; and manage supplier relationships.
2. Logistics Manager
The timing of supplies is critical for every supply chain. Logistics Managers play the important role of coordinating their real-time distribution, movement, and storage. Logistics Managers typically help assess and determine an organization's logistics strategies. On a day-to-day basis, they oversee inbound, outbound, and intra-network logistics operations, including obtaining approvals, building delivery routes, and processing shipments, making sure everyone gets paid and product is delivered on time.
3. Operations Manager
An Operations Manager oversees the production segment of a supply chain, including high-level HR duties like attracting talent, setting training standards, and codifying hiring procedures. Operations Managers focus heavily on improving processes, quality, productivity, and employee engagement.
4. Senior Manager of Demand Planning
The demand planning function ensures adequate supply for their organization or category. A Senior Manager of Demand Planning is responsible for inventory planning and analysis, replenishment ordering, mark-down strategies, and supplier outreach to ensure optimal inventory levels in warehouses and stores to grow sales.
5. Supply Chain Director
This supervisory role leads a team of procurement, planning, supplier quality assurance, and logistics professionals to optimize the supply chain for their organization. Supply Chain Directors are also responsible for ensuring supply chain initiatives and results are integrated into sales, operations, and financial planning.
What Skills Are Needed for Supply Chain Managers?
Supply chain managers must be process-oriented, able to manage their time, think strategically, solve problems creatively, and reason analytically. They should also excel at building relationships, maintaining open communication, and adapting. Supply chain professionals must see the forest and the trees.
The growing number of middle-class consumers in developing countries is driving an increasing demand for consumer goods, which then requires companies to expand their operations and form new partnerships across borders. These changes require multiple skill sets on the part of supply chain managers who must manage complex global networks that span multiple countries and languages, while ensuring compliance with local regulations and requirements concerning fair wages and other procurement practices.
Hard Skills
Supply chain managers reason analytically, but must also solve problems creatively–often before they happen. Successful managers have an interest or background in business management, data analysis, finance, marketing, operations, and program management.
Soft Skills
Because supply chains are made of people and for people, the best managers also possess exceptional people skills–communication being the most critical. An ability to roll with the punches and expect the unexpected are valuable tools in any supply chain manager's kit.
What To Expect from a Supply Chain Management Degree?
A Master of Professional Studies in Supply Chain Management from Georgetown University, whether online or in person, will prepare you to successfully align business processes, anticipate and meet customer needs, and establish a competitive advantage for your organization.
You'll explore process design, operational continuity, corporate social responsibility, data analytics, and financial analysis while mastering the latest tools and best practices needed to create seamless supply chains. And you'll have opportunities to practice what you learn through assignments that are authentic to what you'd experience in the workplace.
Best of all, you'll join a global network of Georgetown University alumni and have access to a wealth of knowledge and support for the rest of your life.
Final Thoughts
If you're interested in a career in supply chain management, you have options. The field is growing rapidly and offers many opportunities for advancement. Continuing your education is key to staying on top of the latest trends and technologies so you can keep pace with your peers in this field.
If you're looking to start or advance your career in supply chain management, consider earning an online Master's in Supply Chain Management from Georgetown University. Our students acquire the skills, expertise, and networking connections they need for a successful supply chain management career.
Learn more