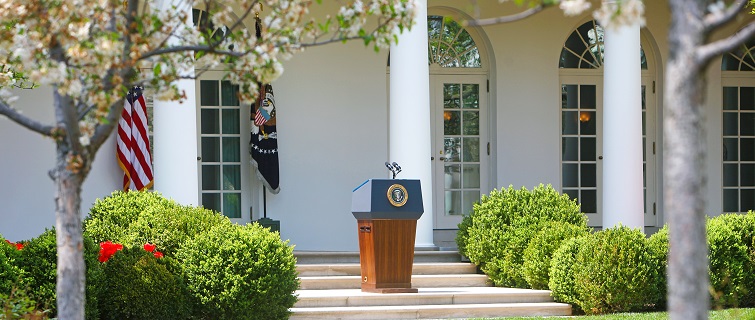 Black professionals have endured variations of "the compliment" for years, but it was still jarring for Yamiche Alcindor when, as a young journalism intern, she had one directed at her.
"Oh, you write really well," a newspaper editor told her. "Most of the kids from Howard don't write really well."
"It stopped me dead in my tracks, because, first of all, Howard [University] is excellent," said Alcindor, now moderator of PBS's Washington Week and a Washington correspondent for NBC News. "I know the students who go to Howard. Of course, they're excellent. But two: I didn't go to Howard. And what he was trying to tell me was: 'I'm impressed with you, and you impress me more than some of the other Black kids I've met.'"
Alcindor, who graduated from Georgetown University, was one of three Black White House reporters speaking at a recent forum sponsored by the Master's in Journalism program at Georgetown's School of Continuing Studies in collaboration with the Washington Association of Black Journalists. The others were April Ryan, author and Washington correspondent for TheGrio; and Toluse Olorunnipa, White House reporter for The Washington Post.
A Critical Look at 'Objectivity'
"Journalism is mission-driven work," Alcindor said, and for journalists of color this work goes beyond simply reporting the news "objectively." It also means including the opinions, experiences, and stories of those whom society has long marginalized. Indeed, for too long, minority journalists say, this vaunted objectivity has, with a few exceptions, represented the perspective of journalists who are predominantly white and male.
According to a 2018 Pew Research Center report, more than three-quarters (77 percent) of newsroom employees are non-Hispanic whites, compared to 65 percent of U.S. workers in all occupations and industries combined. "When combining race/ethnicity and gender," the report said, "almost half (48 percent) of newsroom employees are non-Hispanic white men compared with about a third (34 percent) of workers overall."
Black journalists who have made it to major print or broadcast newsrooms—and especially those covering prestigious beats like Congress or the White House—have an obligation both to the many Black journalists who paved the way for them and to the next generation of minority journalists, who consider them trailblazers as well, Ryan said. And this means being relentlessly accurate and well-prepared.
"We stand on the shoulders of people who understood the gravity and the weight of being in the briefing room," Ryan said. "Everybody doesn't get to the White House; and, when it comes to us, every time you open your mouth, every time you ask a question, you are being critiqued—not just by your family and friends, but by the White House. Because they won't call on you if you ask a crazy question."
A Different Perspective
Alcindor said she uses her position to highlight stories that are often ignored or given only cursory treatment by major news outlets.
"So, for me, covering the White House has also meant that, in the middle of a pandemic, when I looked up and saw Black and brown people disproportionately dying of this virus, I was in the streets for PBS interviewing people … and saying, 'How can we use the words "work from home" and "quarantine" when there are African Americans and Latinos, in particular, who disproportionately have to ride the bus, who disproportionately have to work at grocery stores, who disproportionately are the people who cannot work from home?'" she asked.
For Olorunnipa, the White House beat is something of a paradox: prestigious from the outside, but often unglamorous, as when, say, reporters in the White House press pool have to wait for hours in a van outside a private fundraiser (to which they have not been invited) but are tasked with coming up with a story anyway.
"You can get a lot of doors closed in your face—physically and metaphorically," Olorunnipa said. "But part of the thrill is trying to find out what happened when the door is closed, trying to find a way through the back door, to find out what's happening and take the information to the public.
"Because there's a lot of information that the White House will spoon-feed you—but then, there's the real story."
Learn more