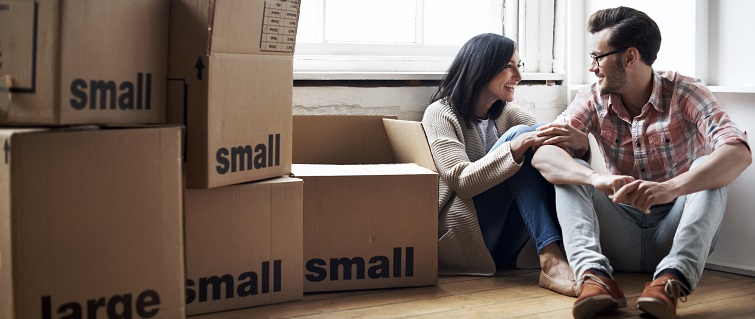 The Army must "have a sense of humor," Carolyn Nice concluded. Why else would it decide to move Nice and her husband some 2,150 miles, from Fort Bliss, on the far west corner of Texas, to Fort Drum, N.Y., near the Canadian border?
Because they loved winter sports?
In all seriousness, Nice, an Army reservist, and her husband, an active-duty officer, know full well that redeployments are a part of military life. And, having moved more than 10 times in her 16 years in the Army, Nice is used to packing up everything in their house and moving across the country.
But what she cannot abide, after all these moves, is still having to put those outdated little stickers on her boxes to identify them. Yes, they can tell you, in general, what's inside a particular box, but they cannot track that box's whereabouts during the course of your move. You just have to have faith (or not) that the box is going to make it to your destination.
A '21st Century' Move
This problem is what led Nice to come up with a digital tracking system called, appropriately, Nice Move. (Slogan: "21st century moving needs 21st century technology.") And it is how Nice, a student in the Master's in Supply Chain Management program at Georgetown University, came to enter her two-minute live pitch in Georgetown Entrepreneurship's Rocket Pitch Competition and go on to take the top prize of $1,500 from among 30 contestants.
Her solution: Put a QR code on every box, and use a GPS system to keep track of it.
"I feel like we're in a very archaic mode with the stickers," Nice says. "We're at a point where we can do everything else with our phones. Why can't I QR code everything, scan it, so when it comes to the new location, I can scan the QR code so I know that box is accounted for. I can see, 'Okay, this is where I packed the family crockpot.' I don't have to open 10 different boxes labeled 'kitchen.' And [with the GPS] I can connect with the driver and know where the load is."
For the Feb. 3 competition, Nice had to sell her idea to a panel of nine judges, all of whom have expertise in entrepreneurship. And she had to do it in just two carefully timed minutes: hence the name Rocket Pitch.
"It might sound like a lot of time, but it wasn't enough for me," she says.
But it was enough to convince moderator Lauren Jordan, an MBA student at Georgetown's McDonough School of Business, that Nice was onto something good.
"What I really like to see is the entrepreneur's knowledge and passion for the topic," says Jordan, who has been teaching entrepreneurial skills to adults and children for about five years. "I love it when they're able to tie their own personal experience or story into the reason for why they've created what they've done. And being able to say that in a clear, convincing, and motivating way."
Also, the product has to work, of course, and, like Nice Move, fulfill a real need.
"I think that one trap entrepreneurs fall into often is that they're only creating for themselves and not the user," Jordan says. "And so there should definitely be a clear personal motivation. I love to hear that in the story. But also, the product needs to be useful. We're going to want to buy it and use it."
Learn more