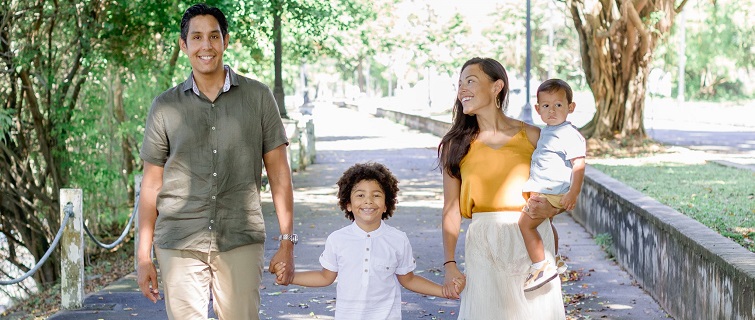 Tahina Montoya's story originally appeared in the article, 'We Belong Here': How 3 Women Leaders Found Pride, Joy and Solidarity at Georgetown.
In 2019, Tahina Montoya (G'23) was facing several major life transitions all at the same time.
After a 12-year career in the Air Force, she was transitioning into the Air Force Reserves and beginning the Doctor of Liberal Studies program at Georgetown's School of Continuing Studies. She was also nine months pregnant—and a few months away from moving to Panama.
Transitioning out of the military had been a roller coaster, she says.
"I was Maj. Tahina Montoya—and I still am, in the Reserves—but what comes after that?" she says. "It was extremely stressful. As much as I tried to convince myself that I didn't identify with a service or rank, I quickly realized it had become such a big part of me."
Three years later, Montoya is reaching out to fellow veterans at Georgetown, many of whom are navigating their transition out of the military, too.
Montoya is the vice president of Women Vets @ GU, an extension of the Georgetown University Student Veterans Association (GUSVA), created to build a safe space and support system for women veterans on the Hilltop. The group offers events, workshops, meet-ups and resources for women veterans.
"For many of us our journey at Georgetown is part of our transition, and it often coincides with a very challenging time where we're trying to jump back into academics while rebranding ourselves and navigating life after active duty," she says. "My hope is to create a safe space to network with others who are going through the same thing."
Ground and Air Support
Montoya has been connecting with and advocating for underrepresented groups and for women in the military since she graduated high school in Lowell, Massachusetts. After her time in the Junior Reserve Officers' Training Corps (ROTC)—which she joined after being told she was "too girly" and "too Latina" to get in—she formed a scholarship with her parents for hard-working cadets in her community.
Once she commissioned in the Air Force in 2008, Montoya found unique ways to get more involved. She applied to the Language Enabled Airman's Program (LEAP), which matches servicemembers with language capabilities with missions that require specific language and cultural skills, and sought opportunities to volunteer. She raised money for beds and coats for kids and the elderly in Kyrgyzstan, helped promote health and fitness in Nicaragua and supported humanitarian missions for the U.S. Embassy in Bogota, Colombia—an experience that eventually led to supporting counter narcotic operations throughout the Western Hemisphere for the Joint-Interagency Task Force-South (JIATF-S).
"It was a great opportunity to leverage my cultural and language capabilities in a mission that really valued who I was as a person and what I offered," she says of her time in JIATF-S.
A year after she transitioned from active duty to the reserves, Montoya began serving as the Women Veterans Policy Fellow for the House Committee on Veterans' Affairs, where she worked to improve the experiences of women veterans transitioning out of the military. She now volunteers for two of the Department of the Air Force Barrier Analysis Working Groups, the Women's Initiative Team (WIT) and the Hispanic Empowerment & Advancement Team (HEAT), to identify barriers underrepresented service members face and removing those barriers through policy change.
'We Belong Here'
In Georgetown's Doctor of Liberal Studies program, Montoya is researching how the epistemology of the Guna, a matrilineal Indigenous group from Panama and Colombia, shapes the self-identity of Guna women and how this is translated through their material art (molas). She is also a program advisor for the Georgetown Institute of Women, Peace & Security's graduate certificate program, which she hopes to connect more women veterans to, she says.
"A lot of us who are transitioning from the military are searching for something equally as purposeful," she says. "Finding that is tough, and a world-wide pandemic just added another layer of stress to those of us in the thick of transition from active duty. Through the School of Continuing Studies, I was able to do something productive and build a new network. Both have helped me on my transition from the military."
Montoya still considers herself in transition from the military and is still figuring out her next steps. But she will continue to leverage her insights from her military career to advocate for marginalized communities and for women veterans.
"I've found that a lot of our experiences bring value to the classroom because we have such unique perspectives," she says. "And I want to let other women veterans at Georgetown know that there is a space for us. We belong here. We're not alone."
Learn more