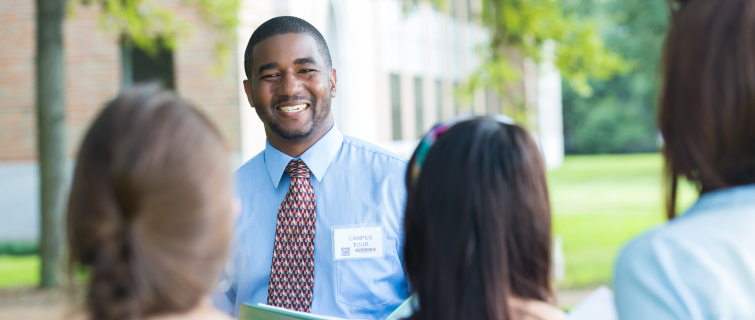 One spring weekend not long ago, Charlene Brown-McKenzie took her 11th-grade son on an "admitted students" visit to a large (very large) and prominent research university.
And, for just a few hours, she wasn't Brown-McKenzie, director of Georgetown University's Center for Multicultural Equity & Access, or Brown-McKenzie, instructor in the Master's in Higher Education Administration program at Georgetown's School of Continuing Studies.
She was simply Brown-McKenzie, concerned parent.
"They were big, brilliant, amazing institutions," she says of the university's 12 colleges. "But they could feel scary, depending on the student."
Good college administrators need to have institutional knowledge, leadership skills, a knack for project management, and an ability to focus both on details and the big picture. But underlying all of this must be a deep concern for students—their health and wellbeing; their intellectual, social, and emotional growth; their success.
That, ultimately, is what families on all those "admitted students" visits are concerned about, and it's what animates Georgetown's program to prepare the next generation of college administrators.
"These families are trusting that I have the expertise, the educational knowledge, the sensitivity, the cultural nuances," Brown-McKenzie says. "And that I can still execute programs, and events. That I also have the operational skills, depending on what unit they're in, to ensure that they're well cared for, and that they're finding success at an institution."
Learning by Doing
One benefit of Georgetown's Higher Education Administration program is that students have the option of participating in a practicum that combines work at the university with a course in which students can discuss real issues they encounter on the job.
"The best way to learn this work is by doing it," says Erika Cohen Derr, DLS, who teaches the practicum course with Brown-McKenzie. "And graduate assistantships and practical experiences are plentiful and a really great way to bring new people into the profession. What our course is trying to do is pair that work with intentional curricular lessons and opportunities for reflection. So, the students are not just having work experience but also reflecting on it and connecting it to the theoretical parts of the work."
Another advantage at Georgetown is that, whatever department they are working in, practicum students are governed by the same Jesuit values that emphasize more than academic accomplishments.
"We talk about caring for people, caring for students as whole people," says Cohen Derr, Georgetown's assistant vice president of student affairs. "What are their strengths and their gifts? What are their needs? How are they doing emotionally, psychologically, in terms of their health, in terms of their community connection?"
'Remote' but Engaged
Samantha Mazzuca, who lives near Nashville, became interested in the field after serving several years as an event manager at Vanderbilt University.
"Georgetown SCS [School of Continuing Studies] has a top-ranked program and offers a remote option," she says, adding that "the curriculum provides critical knowledge surrounding job roles, departments, operations, and leadership in higher education."
Mazzuca works remotely as a graduate assistant in the Office of Admissions & Financial Aid at the Georgetown University School of Medicine, where, among other roles, she welcomes students on virtual interview days, answers program-specific questions, and provides detailed information about the application process.
For her practicum course, she is working remotely in admissions and alumni engagement at the Security Studies Program at Georgetown's Walsh School of Foreign Service. And, for the summer term, she will be assisting Interim Director of Admissions Robert Pinn and his team as a student admissions assistant.
"I really appreciate the opportunity to participate as a remote student, but you still feel like you're a member of the community, as if you're in-person," Mazzuca says. "Everyone is supportive, and your colleagues are from all over the country. You get to build relationships with people."
A graduate of Auburn University who received her M.Ed. at Belmont University, in Nashville, Mazzuca would like to work for Belmont's new Thomas F. Frist, Jr. College of Medicine when it opens.
A Chance To Give Back
Jake Hewins, another practicum student, became interested in working in higher education as an undergraduate at the University of New Hampshire, where he led tours for prospective students. For his practicum, Hewins is working in the Office of Student Life at Georgetown University Law Center.
Why college administration?
"For me, just the ability to help students—kind of be a guide for them—through their college experience," says Hewins, who remembers the support he received as an undergraduate. "But also, my own interests in being a lifelong learner."
Mazzuca is also motivated by a desire to give back.
"It's the students," she says when asked about her career choice. "Creating positive experiences for them and being able to serve as a mentor throughout their academic journey."
Learn more