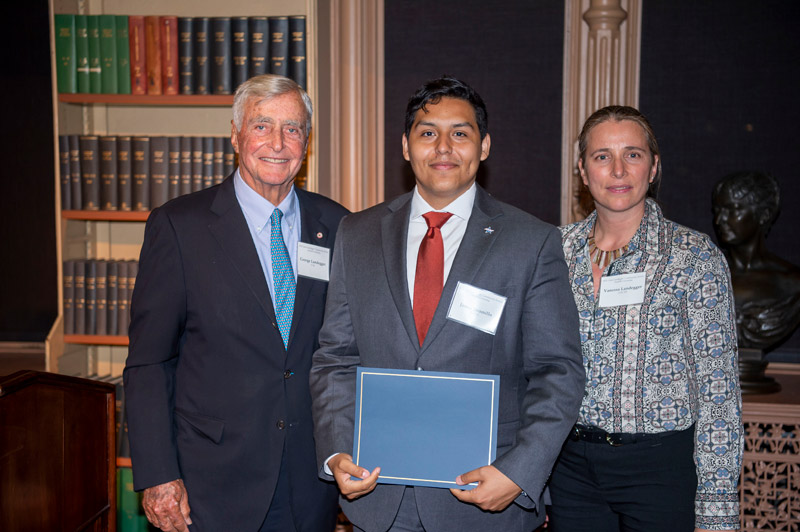 For the first time, an SCS student has won Georgetown's Lena Landegger Community Service award: James Jaramillo, a graduate of the Bachelor of Arts in Liberal Studies Program
A graduate of the Class of 2022 and a Marine veteran, Jaramillo currently works in an Alzheimer's and dementia clinic. His passion to help others earned him this prestigious community service award.
During his time at SCS, Jaramillo was involved with the Georgetown University Student Veterans Association, volunteering to help various organizations and communities with his team. There, Jaramillo coordinated volunteer events for Arlington National Cemetery for Wreaths Across America; Afghan refugee support in Chantilly and Springfield, Va., with Hussain for Humanity; the Afghan Youth Relief Foundation; and Veterans of Foreign Wars.
Jaramillo said he continues to seek out exciting events that call for volunteers so that veterans can connect with other military-connected students. Such volunteer opportunities play an important role in fostering a relationship between students and veteran students, while also giving back to others outside the Georgetown community.
Jaramillo also volunteered in response to the COVID-19 pandemic for the Arlington Medical Readiness Corps. There, he supported the Arlington Public Health division's vaccinating efforts through general and medical support staff with flow control, registration, observation, and vaccinator roles.
Jaramillo plans to continue working in the medical field. He said winning this award has inspired him to continue working toward his career goals. "It's helped motivate me and solidify that I want to continue to help vulnerable populations out in the future," he said.
The awards, founded in 1995, recognize students' outstanding commitment and leadership in community service. The awards were created by the Landegger Charitable Foundation to honor the life and legacy of Lena Landegger, known for her pro-bono work and recognizing the Jesuit ideal of service to others.
Jaramillo said he has always been motivated by helping others and hopes that this award inspires other students to lend a helping hand to their community. "To get more SCS students involved in our community service would be amazing," he said.
Learn more