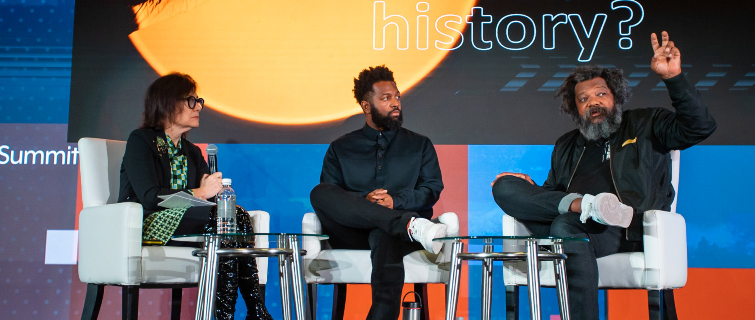 With the nation divided, trust in government at historic lows, and a slew of global problems on the horizon, one might have expected the 2022 PRovokeGlobal Summit—a recent meeting of some of the world's top public relations professionals—to be more subdued than normal.
Instead, the mood at the Watergate Hotel in Washington, D.C., was decidedly optimistic. Over three days, speaker after speaker saw the world's problems as opportunities that communications professionals are uniquely positioned to address—if they are authentic, transparent, intentional, and bold.
"The mere act of living your values has become radical," said Paul Holmes, founder and chair of PRovoke Media, the PR industry's leading source of news, trends, events, career information, and intelligence.
The Demand for Solutions
This state of affairs has put industry experts in a challenging but potentially powerful position. On the one hand, the accelerating pace of news—and misinformation—has made them more susceptible to making mistakes. On the other hand, our hyper-connected world has given savvy and ethical communicators a chance to have more impact than ever before.
"Our clients in the region are definitely looking for solutions," said Caroline Hsu, chief global officer for The Hoffman Agency, at a session titled "New Opportunities in the Asian Market." "They're not looking for just basic PR anymore."
This sentiment goes beyond Asia. In an increasingly crowded marketplace of goods, services, and ideas, organizations aren't content with marketers that offer only static metrics like airtime and number of views. They want results.
"If our objective is just to create awareness of something, it's not powerful enough," said Steven Lewis, a public affairs specialist at the FBI and an instructor in the Master's in Public Relations & Corporate Communications program at Georgetown University. "Our ultimate goal is not simply to make someone aware, but for them to take that information and do something with it."
Technological advances in computing are making this more feasible, conference speakers said. Citing recent case studies, they showed how improvements in data collection and machine learning have made it possible not only to gauge public sentiment on a multitude of issues, but to predict when interest in a particular topic will spike.
"That's exactly the kind of information we're imparting to our students at Georgetown so they are better prepared to provide expert counsel to clients after leaving the program," Lewis said. "The discussions and case studies shared at PRovoke provided some great insights and ideas for future class sessions and will help us innovate our program further."
At the FBI, where Lewis is lead digital content strategist and public affairs specialist, he and his team do more than gauge public awareness of issues like hate crimes and how to report them, a project they took on recently. They want to use this information in targeted campaigns that both increase public understanding of how these crimes are reported and investigated—and the likelihood that they will act if they witness them.
"Now, the result is that people are taking action," Lewis said. "That's exactly what we wanted—it was one of our objectives. It was the Georgetown communications strategy approach that we took right to this campaign."
Not About 'Winning'
The challenges confronting Jen Psaki on January 21, 2021 were both limited and far-reaching. It was Psaki's first day as President Biden's press secretary, and she had no illusions about getting people to take concerted action: the country was too divided for that. She said she simply wanted to "convey to the press—and, therefore, the public—that we were planning to reset the tone" from the more combative stance of the Trump Administration.
In her talk, titled "Bringing Trust and Transparency Back to the White House," Psaki, now a political analyst at MSNBC, said that consistently stating the facts was important, not necessarily to "win" any arguments, "but to get [the media] to think that they should be listening you."
Another talk posed this provocative question: "What if we had media equity in our past? Would our history be history?" The implication was that some of the pivotal events in America's racial history—such as the 1896 Supreme Court decision condoning "separate but equal" railway cars in Plessy v. Ferguson—might have been viewed differently had Black people been more represented in the media and its power structure.
Looking to the future, panelist Baratunde Thurston, host of the popular "How To Citizen" podcast, said that the granting of power to historically marginalized groups need not be a zero-sum game.
Rather than viewing "power as something that some people have that others don't," and, therefore, that "it is a charitable act to grant power to others," Thurston said, we should think of the benefits that a more equitable society would bring to everyone.
And to do that, he added, "we must instead change the conversation."
Learn more