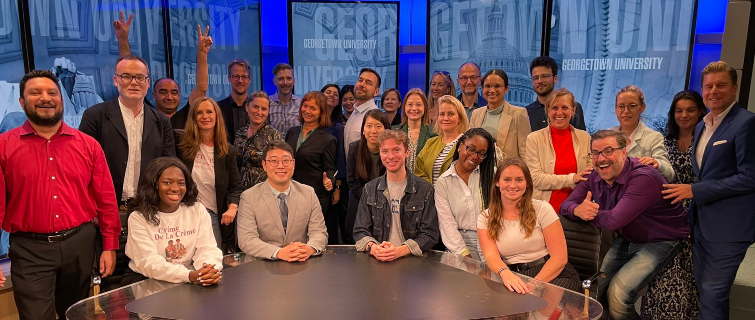 Brandon Benavides was expecting about 10 of the visiting German journalists to show up for his Wednesday night class in Studio Broadcasting, so he was surprised when more than twice that many filed into the ground-floor classroom at Georgetown's School of Continuing Studies (SCS).
His students were surprised, too—all six of them. And maybe a little intimidated. All were new to this business of standing in front of a camera and reading from a teleprompter while trying to act as if they weren't really reading at all—just telling a story to any of the thousands of viewers who, during an actual newscast, would be watching.
That's a skill, and it takes a lot of practice to develop. But most of the students were relatively new to something like this. They had been divided into three teams that each had produced a 90-second news video. Now, they were preparing to show their work to the professionals who were there to critique them.
No pressure or anything.
"This was a good experience for the students, and I'm really proud of them," says Benavides, who is joined in the class by Teaching Assistant David Currie, SCS's Digital Classrooms and Broadcast Manager. "This was their first time doing anything like this—to create a newscast and use the studio, the crew, the director, the producer, and the teleprompter operator. The students did all of this."
A 30-Year History
The visit was arranged by the RIAS Berlin Commission, a binational organization that has sponsored exchanges between U.S. and German journalists since 1992, shortly after the end of the Cold War. In July 2022, Benavides, an instructor in the Master's in Journalism program at Georgetown and a Content Producer for NBC4 in Washington, D.C., traveled to Europe, visiting the headquarters of NATO, the European Union, and other significant sites. A few months later, about 40 German journalists reciprocated with a visit to Washington and the recording studio at SCS.
Isabelle Koerner, an anchor at the n-tv all-news network in Cologne, was impressed by Georgetown's facilities and the direction the class was taking.
"I believe it will be of great benefit for these aspiring journalists to be familiar with the various challenges of producing a live show … and more than helpful for them to fulfill multiple roles, whether it is the role of a presenter, field reporter, producer, or director," Koerner says.
While the work may be intense at times, Benavides' class is informal, with a lot of time for one-on-one instruction.
"He really leaves a lot of that creativity—the imagination of how we want to do this—to us," says Samuel Lee, who worked on a video about the extension of Metro's Silver Line past Dulles International Airport. "And I think that's always fun because, when you're writing a script, there are so many different avenues that you can go."
Another group did a story about Metro offering free one-way water taxi rides from Alexandria, Va., to the District while the Blue and Yellow Lines were under construction. Reporter Allysha Dunnigan and cameraperson Nahawi Hoop wanted to shoot from the deck of the boat while it was moving, but it was too windy.
"I'm only five-one, and the tripod is really big, and it's heavy," Hoop says. "At one point I was scared I was going to tip over. Like, you know, everything for a good shot."
'Are You FOX 5?'
Myriam Samake's group shot a segment about Metro's relatively early closing times, which means that people from places like Arlington, Va., and Montgomery County, Md., who want to meet friends in District bars and restaurants, have to either leave early to catch the Metro, or stay past its closing time and take an expensive Uber or Lyft.
Seeing Samake and her cameraperson show up in the Gallery Place Metro station with all the equipment, "some kids came up and said, like, 'Oh, are you FOX 5?'" Samake says. "It's cool because this is what you see people on TV do. That's what we all want to do with this program.
The crew had done a number of takes when that familiar white light illuminated the tracks in the tunnel.
"I saw the train coming and we were just like, 'Let's just go for it and try to get it right when it's passing,'" Samake says.
That bit of coordination won a hearty round of applause from the visiting Germans—which, of course, Samake appreciated.
"That was really cool because that was probably our fourth or fifth take," Samake says. "I was just trying to get the wording down."
Learn more