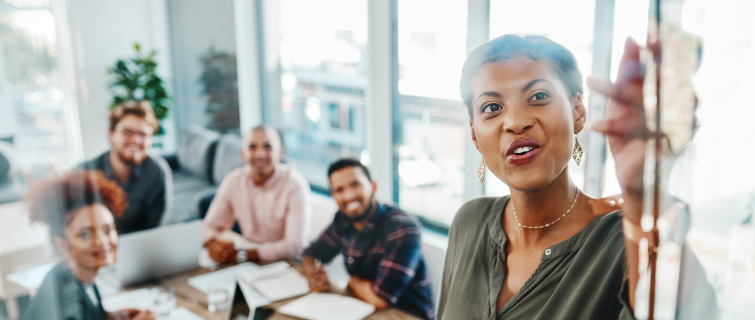 In this age of instant communication, it seems like everyone has a thought or an opinion to share—and share them we do. The result, quite often, is noise.
But amid this cacophony, some messages do get through, and the best ones, the ones that are resonant and have staying power, share some common attributes: they are clear, concise, and persuasive. And, perhaps most importantly, they are authentic—straightforward about their intent and transparent in their execution.
These are the tenets to which the top professionals in public relations and corporate communications adhere, and they form the foundation of the Master's in Public Relations & Corporate Communications program at Georgetown University.
At a time when misinformation is everywhere, organizations need communicators whom they and the public can trust.
The profession has evolved considerably to meet these new challenges, but the main pillars of great communication have not changed. Foremost is good writing, and at Georgetown a considerable amount of time is spent perfecting this skill. Second is research, which includes studying audience behaviors, asking intelligent questions, and developing and testing hypotheses. Finally, there is relationship-building, because human connections—strong, honest, authentic connections—are where effective communication begins.
Career Options for Public Relations Graduates
Careers in public relations and corporate communications are as varied as the messages we use to express the entire range of human endeavors.
Communications Director
Communications Directors are in charge of an organization's messaging. They develop its communications strategy, create marketing plans, and reach out to various media outlets to advance an organization's goals, initiatives, and values.
Director of Media Relations
Directors of Media Relations develop and implement an organization's strategic communications plan. They build relationships with key stakeholders and write or supervise messages for press releases, social media, speeches, and other forms of outreach.
Director of Public Affairs
Directors of Public Affairs oversee an organization's public relations and communications outreach. They are directly involved in every aspect of the organization's messaging, monitoring the tone, scope, and character of all broadcast, internet, and print communications.
Marketing Manager
Marketing Managers develop and implement marketing strategies that meet stakeholder needs and advance the organization's values and objectives.
Public Relations Manager
Public Relations Managers are concerned with how the organization is represented to the public and key stakeholders. They monitor current events, form ties with journalists and influencers, and represent the organization's activities through interviews, media releases, and social media content.
Senior Marketing Strategist
Senior Marketing Strategists perform market research for their clients, set strategic goals, and create and monitor marketing campaigns. They ensure that a campaign's messaging is consistent, powerful, authentic, and cost-effective.
If you're looking to start or advance your career in public relations, consider earning a Master's in Public Relations & Corporate Communications from Georgetown University. You'll be primed to become a strategic and forward-thinking leader who can successfully and ethically navigate the increasingly complex communications landscape.
Learn more