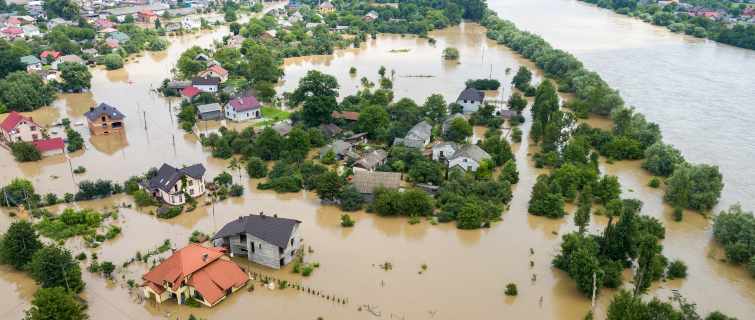 "Lights and sirens."
That's how Tim Frazier, Ph.D., faculty director of Georgetown's Emergency & Disaster Management programs, describes the approach his profession took just a few years ago. He means, of course, that the field was focused primarily on emergency response—and with good reason. After all, responding to fires, floods, hurricanes, and other disasters is central to what emergency workers do, and how well they perform these critical and often dangerous tasks has an incalculable impact on lives and infrastructure.
But today's threats require more than simply better response. They are too big for that, too complex, and often demand coordinated preparation and response across multiple agencies. For example, climate change has increased the intensity of floods, wildfires, and hurricanes, while development patterns in densely populated states like Florida and California have placed more people in harm's way. A big-picture approach has become essential, and that requires knowledge in fields as diverse as healthcare, climate science, and urban planning.
Emergency management will continue to draw exceptionally motivated people who crave a challenge and want to help humanity. Yet today, that challenge is more complex and the skills required to meet it more diverse. But one thing remains the same: Emergency & Disaster Management will always be a highly demanding, yet fulfilling, career.
Career Options for Emergency & Disaster Management Graduates
Careers in Emergency & Disaster Management are as varied as the threats facing America and the world.
Environmental Scientist
Environmental Scientists monitor the surrounding environment—the air, land, and water—to protect these natural resources and safeguard public health. They identify environmental hazards and develop and oversee restoration and remediation plans.
Geographer
Geographers gather data through a variety of sources—such as maps, satellite images, and census data—to create and make adjustments to maps and other visual representations of data.
Police Chief
Police Chiefs are in charge of all the activities of the police department. This includes establishing departmental goals, managing resources, working with government and community leaders, and overseeing the day-to-day operations that help ensure public safety.
Program Manager
Program Managers coordinate multiple projects to fulfill an organization's goals. They deal with issues such as program strategy, the delegation of projects, and program implementation.
Project Manager
Project Managers plan and monitor projects to make sure they are done correctly, on time, and within budget. They are in charge of budgets and project resources, and keep stakeholders informed throughout the course of a project.
Risk Manager
Risk Managers are in charge of an organization's comprehensive insurance and risk management strategy. They help identify risks that could affect the organization's security, safety, reputation, or financial position.
Systems Analyst
Systems Analysts use computers and other technologies to solve IT problems, improve existing systems, and integrate new features that enhance an organization's productivity and business efficiency.
If you're looking to start or advance your career in emergency management, consider earning a Master's in Emergency & Disaster Management from Georgetown University. You'll gain the expertise needed to see the big picture, manage risks, and take action before and after disaster strikes.
Learn more