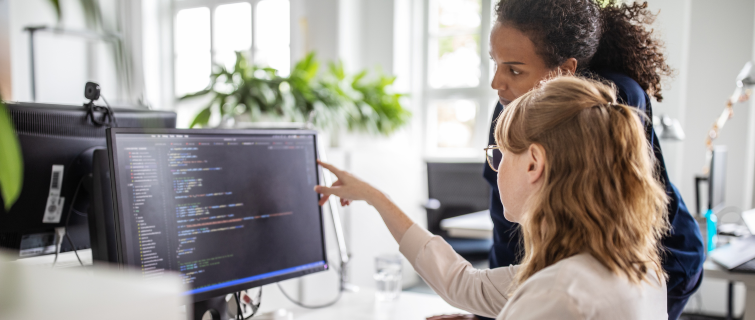 It's common knowledge that we live in an information age, but that term does not begin to describe the exponential increase in data in recent years and the profound impact it's having on individuals, businesses, and organizations. To cite one statistic, by 2025 the world's data is projected to reach 181 zettabytes (the number of bytes equaling 2 to the 70th power). In 2010, that number was 10.
Today, every business is, to some extent, an information business. And, to remain current and competitive, they need highly skilled experts who understand cutting-edge technology and can apply this knowledge to the concrete needs of a business or organization. IT Managers are in charge of the distribution and use of technology across the organization, ensuring that this process is as efficient and cost-effective as possible.
In an age when information has become a kind of currency in itself, IT Managers add value to an organization. And, because of this, they are increasingly becoming essential members of their executive teams. No wonder that, according to the U.S. Bureau of Labor Statistics, information systems managers commanded a median annual salary of $159,010 in May 2021, and their numbers are expected to grow 16 percent—much faster than the average for all occupations—between 2021 and 2031.
Career Options IT Management Graduates
Careers in IT management are as varied as the technological challenges facing businesses and organizations today.
Chief Information Officer (CIO)
The Chief Information Officer oversees a company's computer and information technology systems, assessing current processes, directing upgrades to existing technology, and educating the executive team on information technology strategy.
IT Project Manager
IT Project Managers direct an organization's or a client's technical projects. They supervise the project from initiation to conclusion, coordinating production, delegating various tasks, assessing project efficiency, and providing regular status updates to the executive team.
Business Analyst
Business Analysts work with financial officers, experts in technology management, and others in the organization to improve business practices, optimize costs, and plan future initiatives.
Systems Analyst
Systems Analysts propose IT solutions, improve existing systems, and integrate new technology to enhance organizational efficiency.
IT Consultant
IT Consultants advise clients on information technology systems, helping them solve existing problems and explore future technology solutions.
If you're looking to start or advance your career in IT management, consider earning a Master's in Information Technology Management from Georgetown University. You'll develop the technical and managerial skills necessary to anticipate, meet, and lead the technological needs of your organization.
Learn more