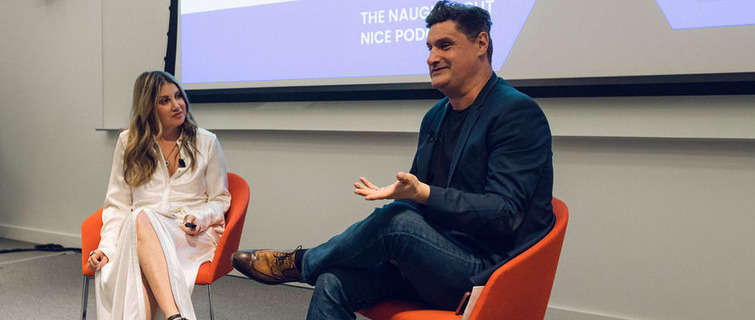 What does it take to be named "America's Number ONE Gossip Columnist" by the National Enquirer? A bit of ruthlessness? A touch of snark? The ability to pounce, fallout be damned, when the moment is right?
Actually, it's quite the opposite, said Rob Shuter, that so-named columnist, who is the creator of the hugely popular "Naughty But Nice" podcast and a celebrity in his own right.
No, the secret is kindness.
"People think I'm a kind guy—I am," Shuter said. "And I'm also kind to myself. I don't call myself names. I don't say mean things to myself. I don't tell myself I'm not worthy."
A Different Approach
Shuter and his friend, notable publicist Mindie Barnett, spoke recently during interviews and at a presentation sponsored by the Georgetown Master's in Public Relations & Corporate Communications program (PRCC), led by the student group PRCC Social Network. Both have books out that embrace a similar message: You don't have to be mean or overbearing to get ahead in highly competitive fields like celebrity reporting and public relations. In fact, you'll be more successful if you're not.
As an example, Shuter recalled interviewing a New York City radio host for a late-night talk show he hosted years ago. While the radio host had a substantial following on the air, he seemed unsure and uncomfortable in front of the camera, and Shuter had a choice of how to respond: Grind his way through a difficult interview? Play it for laughs?
He took a different approach.
"He turned out to be the Number One syndicated radio show host in the world," Shuter said. "His name's Elvis Duran. He has more listeners than Howard Stern or Ryan Seacrest. Because I was kind to Elvis, in just 20 minutes we became friends, and now I have my own podcast on iHeart Radio because it's directly related to that kindness."
Shuter's book is called "The 4 Word Answer." It asks readers to come up with four words that describe themselves, words that go beneath the self-doubt and clutter that can lead us astray.
"Every successful person I've ever met knows who they are in just a few words," Shuter said. "It's the most important question you will ever ask: 'Who am I?' And if you can answer that, I promise you, you will find success."
No 'Dream Job'
Barnett's book comes to a similar conclusion—and drives home that point in its very title: "You Don't Need To Be a Bitch To Be a Boss."
If you suspect a backstory here, you're right. It comes from Barnett's experience at an upscale public relations firm, a position she had taken after a decade in journalism. A toxic culture turned what could have been a dream job into a nightmare.
"I literally could trust no one there," Barnett explained in her book. "I made the mistake of telling a colleague who had inquired that I had missed working in television news. Within the hour, I was dragged into QB's office [QB stands for "Queen Bee," her supervisor]—with the same colleague in tow—to explain what I meant by my comment and say I had no intention of quitting. It was a grilling like no other. The bitch session lasted a full hour."
There is a better, more effective—and, yes, kinder—way to lead, Barnett said.
"Real leaders mentor; they don't manipulate," Barnett wrote. "You get so much more from employees when you lead with empathy. I believe in educating people about how to perform better. I don't believe in fear tactics."
None of this suggests some kind of laxity or aversion to hard work, both speakers told the students. You have to put in the hours, or in Shuter's words "boss up," meaning become your own exacting boss.
Barnett also offered the students some practical advice on writing email pitches.
"Get to the point," she said. "Reporters, editors, etc., get thousands of emails every day, whether it be from other PR people like yourself, or colleagues, or people from corporate, and various stations. … And they don't have time to read through this really long letter. They're going to delete, and if you don't catch their attention immediately, they're just going to blow through it. Also, making the subject line compelling is really important as well."
Finally, make sure you're not coming off as self-serving: offer them news they can use, not something that just promotes your brand, Barnett said. It takes a lot of time and effort, and a total commitment to serving your clients.
And, while you're doing all that hard work, remember this most of all:
"Forgive yourself," Shuter said. "Don't judge yourself. Don't let 'you' be the worst day of your life, those worst 10 minutes of your life—which is 10 minutes. It doesn't have to be you. And don't hold a grudge. I've worked with people I really disliked. You've got to figure out a way: you can't hold a grudge, and you've got to forgive yourself. Once you do that, I think you'll have an extraordinary career, extraordinary life."
Learn more