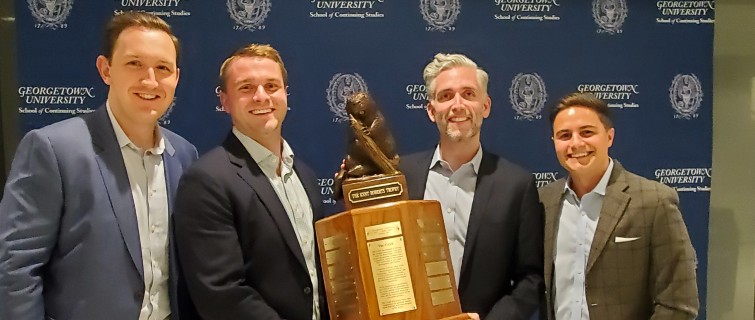 It had all come down to this: the third and final drawing for The CASE Competition 2023 finals, a prestigious contest for real estate graduate students organized by the MIT Center for Real Estate, held this year in Toronto.
Unlike other college competitions, each team must prepare on its own—students are not allowed to receive any advice from faculty or other advisors. Twelve real estate programs had made the semifinals, each pitching their proposal for developing Villiers Island, an old industrial area that Toronto hopes to turn into a destination, complete with retail, much-needed housing, and something special to attract visitors.
It was that "something" that was the crux of the challenge: What would draw enough visitors to help offset the costs of 250 housing units—up to 20 percent of them deemed "affordable"—and allow the developer to make a profit?
The drawings proceeded at the headquarters of Oxford Properties Group, a renowned development company with assets of $87 billion and projects in London, Sydney, Toronto, and New York.
New York University made the cut. So did MIT. That left one more.
Georgetown has an enviable track record in the competition, having won previous competitions in London, Miami, and San Francisco—the most victories of any school. But this year's contest was especially competitive, and the first two proposals were very good.
"I don't know guys; I don't think we're gonna get it," Paul Whitford said to himself as the team from the Master's in Real Estate program at Georgetown University waited in the auditorium. "Turns out, we were in the third group. And we kind of sprung out of our chairs and went up, and presented, and got absolutely grilled by the judges on the questions."
"They actually announced us by team number," said teammate Daniel Sechtin. "So, rather than saying 'Georgetown,' it was something like 'team R6B79,' which made for even more confusion. Then, all of a sudden, our presentation was on the big screen, and we realized we were up. No pressure!"
Time to defend their proposal—for a second time.
'A Very Difficult Environment'
Like many businesses, real estate runs in cycles, with good years and lean ones. Even so, this period has been unusually rough, particularly in metro Washington. During the pandemic, tens of thousands of office employees began working from home—first by necessity, and later by choice. As a result, the number of office vacancies in the DMV soared. The situation has improved markedly over the past two years, according to the D.C. Policy Center, but on any given day, more than half of the region's office space remains unused.
Toronto is in a much better position, thanks to rapid immigration, which has more than made up for the loss of many longtime residents to less-pricey areas. In 2019, for example, its immigration numbers nearly tripled New York City's, and by 2020 Toronto was briefly the fastest-growing metropolitan area in North America before being eclipsed by Phoenix the next year.
Much of the growth has clustered around public transportation.
"Wherever a train station is, they go vertical, essentially, so they build really tall buildings," said Malachy Burke of the Georgetown team. "Washington has had, I would say, fairly stable population growth. But Toronto is through the roof."
Still, the city is expensive—and so is the cost of building there.
"I think the hardest part was making something that is profitable in this market," said Georgetown team member JB Gough. "It's a very difficult environment that we're in right now, economically. Obviously, interest rates have gone up like crazy the past year. Construction costs are at near all-time highs. And that puts a big cost burden on any project."
Given these realities, Gough said, any "cookie-cutter project" that lacks a unique revenue-stream might not make it.
Tossing out Ideas
To come up with a plan, the team met one night in February in a classroom at the School of Continuing Studies. All have full-time jobs in the industry and are good friends, so they could be brutally honest when evaluating one another's ideas. But it was a difficult problem, and as the evening wore on they were getting tired, and maybe a little punchy, and the ideas got more and more far-fetched. How about an amusement park? somebody suggested. Maybe a new arena for the Maple Leafs?
"And then, I think I threw out 'concert hall' in the same vein," Whitford said. "I was kind of expecting everyone to laugh and just move on to the next dumb idea. But that one kind of stuck and resonated with people."
As it turned out, they had an example in The Anthem, the performance space that opened in 2017 at The Wharf in Southwest Washington, D.C. Toronto has a thriving music scene, they learned through their research, but it lacked a smaller facility that would draw visitors who weren't interested in going to the 19,800-seat Scotiabank Arena, where the Raptors and Maple Leafs play.
Their plan, called "The Hive at Keating Channel," is a 1.75-acre mixed-use development with about 250 housing units, 20 percent of them affordable. It includes a waterfront promenade and sculpture garden; retail space; restaurants at rooftop and ground-level; and the draw that would make the whole enterprise profitable: a 4,000 capacity, state-of-the art concert hall. To launch the project, they proposed that the city sell the property to the developer at slightly below market rates and recoup that shortfall, along with a profit, with a portion of the project's revenues.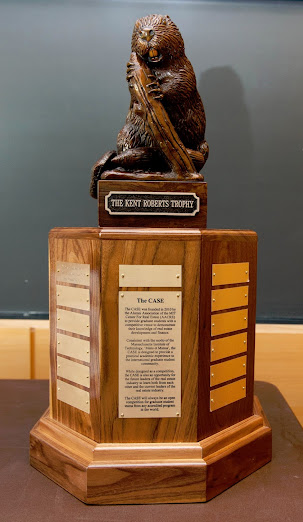 Why "The Hive?" It turns out, Toronto has a Pollinator Protection Strategy aimed at creating and sustaining natural habitats for these essential members of the ecosystem, and each team in the contest was asked to include facets that would support this effort. The Georgetown team's proposal includes native plants in roof gardens and along the parklike promenade.
In the spirit of saving the best for last, Georgetown's team presented their proposal, responded cogently to the judges' grilling—and won the competition for the Kent Roberts Trophy.
"What I think gave us an edge as a team was that we all have very different backgrounds," Sechtin said. "Paul is an investment sales broker. Malachy and JB own their own private equity real estate firm. And I'm a former news anchor turned multifamily real estate underwriter. So, I think the biggest takeaway was, sometimes, to get the best ideas, you need to bring people with different viewpoints to the table."
Learn more