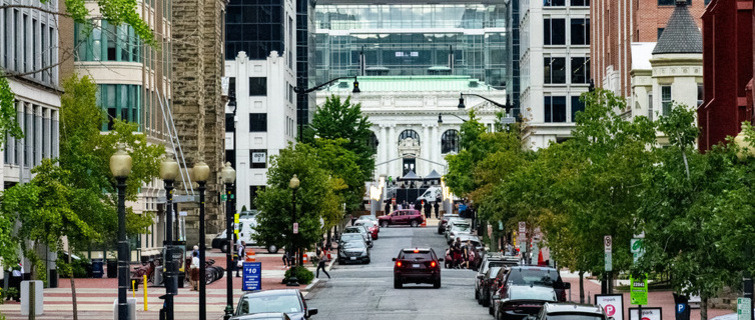 It seemed to happen overnight: the pandemic struck, and cities emptied.
The threat subsided two years later, and it was safe to come back to the office, but less than half the office workers returned. The "work-from-home revolution," as Georgetown University's Uwe Brandes calls it, had begun, and downtowns—including some of the nation's most iconic: New York, Chicago, San Francisco, and Washington—might never be the same.
"This is a big, big deal, and there are a couple of reasons why," says Brandes, faculty director of the Master's in Urban & Regional Planning program. "If you're a building owner, it looks like a lot of people who have leases in your building are not going to renew them. Or, they're going to renew them with much less space."
This surplus office space has depressed commercial real estate values. And, with fewer workers coming downtown, many of the stores, restaurants, and delis that once served them have closed. Both developments, says Brandes, mean less tax revenue for cities that sorely need it to confront problems, like rising crime, that these trends have helped fuel. Some economists are calling this cycle of vacancy and disinvestment "the urban doom loop."
There is a way out of the doom loop, however, and it involves reimagining cities in ways that urban planners have been talking about for decades: transforming them into more vibrant, hospitable, and, yes, "fun" places where people want to work, visit, and live. But taking this leap will require smart public and private investments, innovative thinking, and political will. And unlike the current crisis, which seemed to grow directly from the pandemic but has roots that go far deeper, it won't happen overnight.
A Different Kind of City
Cities are already taking action. In 2022, Washington, D.C., Mayor Muriel Bowser began work on a five-year economic development strategy called "DC's Comeback Plan." Released in January 2023, the city-wide framework includes a new Downtown Action Agenda. The DowntownDC Business Improvement District (BID) and the Golden Triangle BID are partnering with the Federal City Council and the Office of the Deputy Mayor for Planning and Economic Development to create a new vision for D.C.'s downtown and an implementation plan to bring the new vision to life. The Action Agenda process is scheduled to issue its report in November 2023. A Business Improvement District is a designated area where businesses pay a supplemental property tax to support projects and services that augment those provided by the city.
In Fall 2022, three urban planning students built upon this effort by participating in a semester-long Urban Planning Studio at Georgetown with architect and urban designer Adam Glaser. In December, the team issued its report, "Reinventing the DowntownDC BID," which provides a blueprint for reviving the critical one-square-mile area north of the National Mall. The neighborhood includes, among other amenities, seven Metro stations, a convention center, a sports and entertainment arena, 15 museums, nine theater/performance venues, and 135 destination restaurants.
"We began with the premise that Washington, D.C., is really the nation's greatest 'college town' given its local universities and dozens of satellite campuses including major facilities for Johns Hopkins, NYU, and ASU," Glaser says. "How can we amplify this trend to rethink land use and create dynamic, new tenants in downtown D.C.?"
The students worked like consultants. They met with their "client," BID Director of Economic Development Gerry Widdicombe, and with developers who specialize in office-to-residential conversions. They explored the area's assets and problems, performed research and simulations, and proposed potential solutions.
"The biggest thing we identified is the high office vacancy rates in their BID," says Madeline Samet, who worked on the project with fellow planning students Carolyn Bowen and Grant DuVall.
While many of those vacancies are linked to the pandemic, Samet says, the virus does not explain a process that began years earlier.
"Some people will tell you that downtown was on a decline before the pandemic, and the pandemic was more of a catalyst to its high vacancy rate," Samet says. "And it accelerated the closures."
A Renewed Sense of Community
In 1997, when Abe Pollin, then-owner of the NBA's Wizards and the NHL's Capitals, took a chance on downtown and built the MCI Center (now Capital One Arena) on F Street NW, the residential and commercial area surrounding it had seen years of steady decline. The arena triggered a boom in commercial investment that filled 129 of the 135 vacant lots and dilapidated buildings that existed in 1994.
The redevelopment restored the downtown, but, as with many American cities, it prioritized office, retail, and commercial space over residential construction. And, years later, when many of these offices started emptying and some restaurants and shops surrounding them began closing, the area declined again.
In the fall of 2022, according to DowntownDC, 74 percent of the area's square footage was devoted to office space and only 7 percent to housing.
"We've been creating these very unusual downtowns in the United States, really, since the '50s and '60s where we push all the residents out, and we build the office buildings that are much more expensive than conventional residential buildings and utilize a fundamentally different business model," Glaser says. "And probably the most extreme version of that is Washington, D.C., because of the relationship between those office buildings and the federal government. In a sense, this is a problem that I think, frankly, has been brewing for decades."
With a shortage of housing, and, most acutely, affordable housing, bringing more people downtown to live is an obvious solution. But converting today's office buildings to residences can be hugely expensive, in part because their deep floor plans don't provide much natural light. Even so, the students identified about 4 million square feet of office floor space in the area that could potentially be converted, a number that represents nearly half their goal of adding 10 million square feet of residential space—enough for 20,000 new residents—within 10 years.
Not only would these residents reanimate downtown, but they would also create a healthier, more resilient "15-minute city"—one in which daily services like groceries and pharmacies are within a 15-minute walk or bike ride, Glaser says. This transformation would align Washington with such highly successful global metros as Paris, Amsterdam, and Copenhagen.
A Link with Universities
The students' plan also includes "Campus 2.0," a new strategic framework that harnesses the collaborative power of universities, startups, and research and development industries to create vibrant communities that attract students, alumni, and knowledge workers. Glaser has developed similar districts with Washington University in St. Louis and the University of North Carolina, Chapel Hill. In the St. Louis district, on-site employment increased from 1,000 to 6,000 over seven years, and citywide employment grew 4 percent.
"When universities create partnerships with the private sector, graduating students are recruited, adding to the local economy and job market," says the students' report. "Some students become entrepreneurs, creating additional job growth."
The idea is that separating functions—workplaces from communities, universities from the industries they serve—was a mistake, but one that can be rectified by thoughtful planning that recognizes the city's unique, complementary assets.
"Will the new project mix all kinds of activities together, or will it mistakenly segregate them?" urbanist Jane Jacobs wrote in her essay "Downtown is for People"—in 1958. "In short, will the city be any fun?"
"Fun" might not have been of much interest to those driving urban development in the 1950s and '60s, but time has proved Jacobs correct, a point made even more obvious during the pandemic when many knowledge workers found they could work almost anywhere. Why would they choose a city that did not support all facets of their lives? One that would not enable them, and their families, to thrive?
Washington has a tremendous advantage in this area with its iconic National Mall and world-class museums, as the Georgetown students noted. Their plan builds on these amenities by creating new city parks, a pedestrian greenway and arts corridor along 8th St. NW, and other green spaces throughout the BID.
The idea is to make people come downtown, and stay downtown, not because they have to, but because they want to.
"The DowntownDC BID was excited to see the ideas that the students' 'fresh set of eyes' could bring to the discussion of a new future for Downtown D.C.," Widdicombe says. "And, they did not disappoint the BID."
Learn more