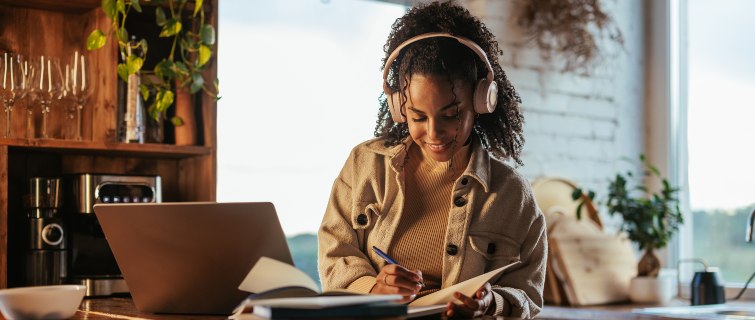 What Is a Certificate Program?
A certificate program is an educational pathway designed to give students specialized skills and knowledge in a specific field or discipline. Unlike degree programs that can take several years to complete, certificate programs are condensed, focused, and often completed within a shorter time frame, such as six months.
Certificate programs can be great if you're looking for something shorter than a bachelor's degree or have already earned one. They often require less time and money than other types of degrees, which means they're ideal for people who need flexibility in their schedules or who aren't sure what they want to do yet.
Benefits of a 6-Month Certificate Program
The benefits of a 6-month certificate program include the following:
Start a New Career
In an ever-evolving job market, the need to remain competitive and relevant cannot be overstated. Whether you're a recent graduate or a seasoned professional considering a career pivot, 6-month certificate programs offer an accelerated pathway to enter a new field. They are a timely and practical solution for individuals seeking to make a significant career change without committing to a long-term educational course.
Advance a Current Career
For professionals looking to climb the career ladder, acquiring a certificate can demonstrate commitment, competence, and expertise in a specific area, thereby enhancing their prospects for advancement.
Increase Income
The specialized knowledge and skills acquired from these programs can make one more valuable in the job market, leading to higher-paying roles.
Learn from Real Experts
Many of these programs are taught by industry professionals who bring real-world experience into the classroom, offering students a practical understanding of the field.
Networking Opportunities
Participating in these programs provides opportunities to connect with like-minded professionals, expanding one's professional network and opening doors for future career opportunities.
6-Month Certificate Programs Offered by Georgetown SCS
Georgetown University's School of Continuing Studies offers an array of 6-month certificate programs that provide a quick and focused route to enhancing your professional skills and improving your career prospects. Whether you are seeking to switch careers, advance in your current field, or simply gain new skills, these programs—taught by industry professionals in fields that typically pay well—offer the practical knowledge you need.
Certificate in Data Science
The online Certificate in Data Science equips students with the essential technical and analytical abilities needed to gather, process, model, and display data. As a student, you will utilize the Python programming language and industry-standard tools to develop and present data analytics, machine learning models, and visualizations. Additionally, the program will sharpen your communication skills and teach you effective data presentation strategies.
Our program is led by both academics and professionals from the data science community, combining hands-on coursework and personalized attention with collaborative group projects centered around real-world data science challenges. Upon completion of the certificate program, you will possess the comprehensive expertise necessary to convey compelling narratives with data and make a significant impact on organizational decision-making.
"The Data Science Certificate provided me with [the] knowledge and confidence necessary to embrace the challenge of transitioning into a new role at my organization," says Yaroslava Gouk. "Moreover, learning from faculty members who are industry professionals helped me gain invaluable insights and develop relationships which will inspire me for the rest of my professional career."
The median salary for data scientists is around $122,000, according to the Bureau of Labor Statistics.
Certificate in Data Analytics
The online Certificate in Data Analytics delivers the advanced analytical and technical abilities that enable you to leverage data for effective communication of results and informed decision-making. You will become proficient in methods for detecting, gathering, and examining data, as well as in creating visualizations to convey compelling narratives and foster comprehension. Upon completing the 12-week certificate program, you will be adept at transforming data into actionable insights that enhance performance, boost efficiency, and generate outcomes.
You'll learn data analysis and visualization techniques, improve critical and strategic thinking abilities, develop frameworks for collaboration and creative projects, and receive one-on-one coaching to help you get to the next step in your career.
Data analysts can expect a median salary of around $85,000.
Certificate in Social Media Management
With a Certificate in Social Media Management, students gain the necessary tools to design, implement, and evaluate a comprehensive and successful social media campaign. Through a blend of case study analysis, lectures, individualized instruction, projects, and simulations, you will excel in developing an authentic and impactful voice for your organization and community.
Our instructors consist of experienced industry professionals and social media practitioners, who infuse the classroom with real-world knowledge and expertise. Upon completing the program, you will be adept at establishing a captivating social media presence that engages audiences and generates impact.
"This program was very helpful to my career," says Chaseedaw Giles. "I started the program as a Marketing Coordinator and a few months after completing the program I was promoted to Communications & Social Media Specialist. I am now more clear on my career path and building my digital portfolio to become a Social Media Manager."
Social media managers earn an average salary of about $65,000.
Certificate in Finance for Non-Financial Managers
Managers and executives across various professions will discover the online Certificate in Finance for Non-Financial Managers to be extremely beneficial in cultivating financial literacy crucial for making well-informed strategic choices. Through one-on-one coaching, you will acquire skills in analyzing financial statements, evaluating cash flows, conducting ratio analysis, implementing budget planning and control processes, making strategic allocation decisions, and assessing an organization's value and financial well-being.
Upon earning the certificate, you will not only be better equipped to oversee and comprehend financial performance, but also evolve into a more imaginative and innovative critical and strategic thinker.
"Understanding the financial performance of a firm, which helps in decision-making, is the key to successful management," says adjunct lecturer Akilas Mavrakis. "This program is designed to provide non-finance professionals with financial-decision tools, so that they can better evaluate the performance of their business, understand the nature of cost and ways to reduce it, and help them with their financial planning."
Professionals with this certificate can expect a significant salary increase, depending on their primary roles.
Certificate in Project Management
Organizations increasingly depend on successful project management to achieve strategic goals. Applicable to numerous industries, certified project managers are in demand to handle complex projects and satisfy customers while maintaining efficiency and transparency.
Georgetown's on-campus and online Certificate in Project Management equips professionals with the knowledge and skills to excel in this field. The curriculum, based on the Project Management Institute's "A Guide to the Project Management Body of Knowledge (PMBoK)," emphasizes real-world applications and managing challenges to deliver projects effectively. Georgetown offers a diverse learning environment, convenient modalities, individualized attention, and experienced faculty. As a PMI-approved provider, the program ensures a high-quality experience for students.
"The demanding and fast-paced curriculum in the program exceeded my expectations and gave me the tools and knowledge to manage projects more effectively," says Megan Hayes. "The instructors were knowledgeable, responsive, and applied the course curriculum to real-life scenarios."
Project managers earn a median salary of about $75,000, with the potential to earn over $100,000 in senior roles.
Certificate in Digital Marketing Strategy
Georgetown's Certificate in Digital Marketing Strategy immerses you in the realm of multi-channel marketing. Throughout the 12-week online program, you will acquire advanced skills and marketing expertise to identify, engage, and foster customer relationships in the modern digital landscape. Delivered by marketing industry professionals and practitioners, the program incorporates a mix of lectures, class activities, individual and group tasks, personalized instruction, and a capstone project. Upon completion, you will be equipped to develop and implement digital marketing strategies that propel business success.
"Georgetown's Digital Marketing Strategy [Certificate] not only provided a critical foundation in SEO, CRM, and strategy, but also pushed me to think creatively about the constantly evolving digital marketing ecosystem," says Maya Bogle.
Digital marketing professionals can expect a median salary of around $68,000, with the potential to earn much more in specialized roles.
Georgetown SCS Certificate Program Requirements
While specific requirements may vary by program, all Georgetown SCS certificate programs generally require applicants to have a bachelor's degree. Prior professional experience in the related field is often recommended but not always required. Furthermore, some programs may require a basic understanding of certain software or tools relevant to the area of study. Prospective students are encouraged to check individual program webpages for specific prerequisites and requirements.
Final Thoughts
By choosing a 6-month certificate program that aligns with in-demand roles and industries, you can significantly increase your earning potential. The time investment is relatively minimal compared to traditional degree programs, and the potential return on investment can be considerable.
If you're ready to take the next step in your professional journey, consider a certificate program from Georgetown University's School of Continuing Studies. To explore the full range of options, visit the Professional Certificate Programs section of the Georgetown SCS website.
Equip yourself with the skills and knowledge that employers value and put yourself on the path to a successful and fulfilling career.
Learn more