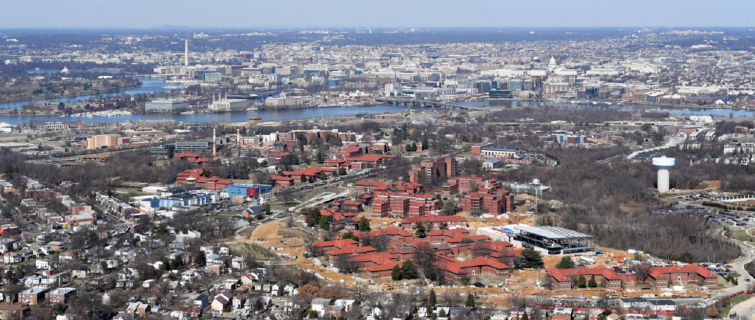 Congress Heights, a "historically disinvested," majority-Black neighborhood in Southeast Washington, D.C., is now seeing unprecedented development, Georgetown University graduate Landis Masnor writes in his award-winning Capstone project.
"In addition to the new development, the neighborhood has many appealing features like vast green space, low-density zoning, attractive and spacious housing stock, and Metro accessibility," he writes. "These and other amenities make the neighborhood desirable for long-standing residents, housing investors, and newcomers."
Taken out of context, it might sound like an invitation for those newcomers to come to Congress Heights while housing prices are still relatively low (for the District) and massive public and private investment in housing, a major entertainment and sports arena, a hospital, and commercial space are making the community increasingly desirable.
But, while all those things are true and are, in many ways, positive trends, there is a downside to all this development; and that is what Masnor, a planner at Washington's Livable City Group and 2023 graduate of the Master's in Urban & Regional Planning program, is really talking about: "Without an anti-displacement or community development strategy," he says, "these amenities become risks for the low-income, renter-majority population."
Development Pressures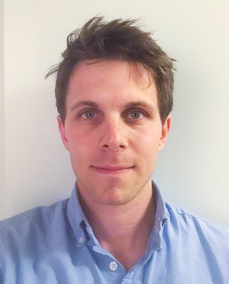 Congress Heights can't avoid gentrification, Masnor says in an interview. The term can mean many things, but it generally refers to how a neighborhood's character can change when more affluent residents move in. What is more concerning than gentrification, per se, is the very real prospect that this change will displace longtime residents. He says the development pressures facing Congress Heights—with its low-density zoning, single-family lots, and preponderance of residents who don't own their own homes—"is like a brushfire for displacement."
But the community can take steps to mitigate the impact of development and preserve affordable housing. In his 56-page Capstone, "A BID for Equity? Funding a Neighborhood Partnership in Congress Heights," Masnor urges a community nonprofit group called the Congress Heights Partnership (CHP) to apply to the city government to become a Business Improvement District, or BID.
"A BID is a defined urban area where stakeholders, usually businesses, pay a special assessment" to benefit the area, he writes. This BID "tax" finances an organization—usually a nonprofit partnership—that provides services, such as marketing, beautification projects, and neighborhood safety programs that help improve the area.
BIDs have played an important role in upgrading communities and guiding development in a number of cities, including Washington. The DowntownDC Business Improvement District has supported major improvements to the area around Capital One Center, and the Southwest Business Improvement District (SWBID) has helped shape development of the fast-growing neighborhoods near the Wharf entertainment complex and Nationals Park.
But while BIDS have been able to help preserve some affordable housing, they cannot stop gentrification. And while they promote community decision making, critics say they tend to favor the interests of local businesses that support them financially over residents' needs.
It's hard to get around the basic dynamic: businesses and other property owners naturally want to improve the quality of life in their community. But, the more successful they are, the more these neighborhoods become attractive to new, wealthier residents, thus increasing rents and housing values, and, all too often, forcing out lower-income residents. That is the scenario that Congress Heights—where more than 75 percent of residents rent their homes and median net worth, at $13,581, is seven times less than the District median—is trying to avoid.
'A Game-Changer'
Congress Heights recently considered forming a BID, Masnor says, but research showed its property values were too low to support BID activities "or even the initial cost of forming a BID." Complicating this problem is the fact that 77 percent of the community's existing and planned square footage is owned by the District and Federal governments, and whether a portion of that land could be taxed is an open question.
But Masnor thinks it's too early for Congress Heights to give up on a BID. The community is seeking funding for the Congress Heights Partnership, and he says a BID is still possible.
"Based on my research, I argue that a BID or a CID (Community Improvement District) is preferable to a traditional nonprofit structure and that property values can now support the CHP through BID financing," he writes. Moreover, a BID's mission and structure can be tailored to the needs of the community. As a privately funded but publicly approved body, its "political influence is so broad and physical authority so unspecified that in most cases a BID's scope is self-determined. These strategic ambiguities and formal legitimacy can be valuable attributes for an underdog neighborhood like Congress Heights."
Uwe Brandes, faculty director of the Urban & Regional Planning program, says that, while the issues Congress Heights is facing are difficult, this kind of community-based organization, and the expertise it provides, can give the neighborhood a stronger voice in its future.
"This is a neighborhood that is definitely going through lots of changes, so having a kind of professional advocate working on behalf of the community—it's a big deal," Brandes says. "It's a game-changer."
Masnor's thesis won the 2023 Capstone Award for the Urban & Regional Planning program.
"It was a very sophisticated economic analysis of a neighborhood that rarely gets this kind of attention," Brandes says. "So, this was just a very exciting project for us."
Learn more