Business writers don't normally speak in superlatives, but in this case it was justified. Amazon, soon to be named the world's richest company, had just picked the Crystal City section of Arlington, Virginia, to be the site of a new headquarters. That would mean an estimated 25,000 new jobs paying an average salary of $150,000 a year.
"Amazon's plans for the new headquarters in Crystal City provide a once-in-a-lifetime opportunity to flip homes and improve housing values in the Arlington and Alexandria areas," wrote Daniel Huertas, CEO of Washington Capital Partners, in Forbes.
But those opportunities aren't limited to Northern Virginia, Huertas said. Some of Washington, D.C.'s least expensive properties lie just across the Potomac in the Bellevue and Congress Heights sections of Southeast—an easy commute to Crystal City over the Woodrow Wilson Bridge. Now even these areas "are beginning to see the effects of D.C.'s hot real estate market."
A Mixed Blessing
For Monica Ray, a 26-year resident of Congress Heights, this sudden interest in her community is a mixed blessing. She wants to see more economic development: Indeed, she's worked for neighborhood investment and revitalization in Ward 8 for much of her adult life. But she doesn't want the rising home prices and rents to force out the very people who have waited so long to benefit from it.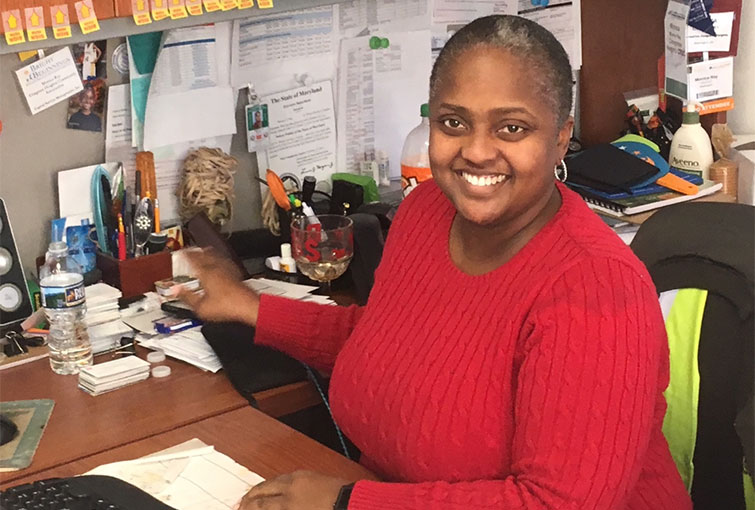 "It's a delicate balance between needing new changes and building wealth in the existing community through housing preservation to ensure that those who decide to stay will be able to do so," said Ray, president of the Congress Heights Community Training and Development Corporation.
She points to the revitalization—and gentrification—that has transformed other D.C. neighborhoods: U Street, Logan Circle, NoMa, Shaw. Is Congress Heights next?
"We've become the last bastion for development in our city," she said.
'Soul of the City'
Can Congress Heights have it both ways, attract development—and the new, more affluent residents it brings—and preserve the diversity that has made the community the "Soul of the City," as community residents call it?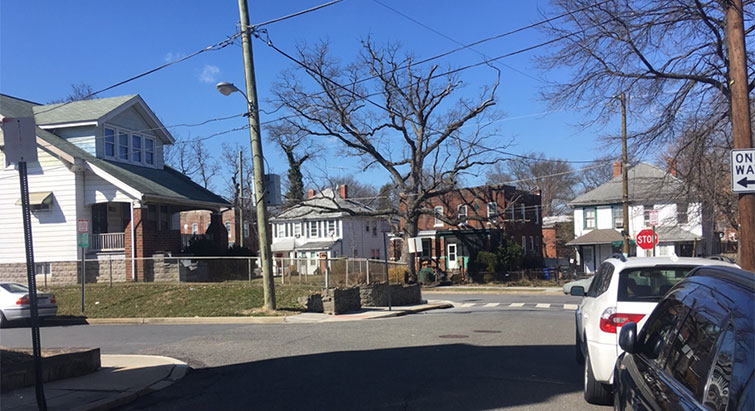 An urban planning studio at Georgetown University is giving it a try. Comprising students from both the Urban & Regional Planning program and Law Center, the class is devising an urban planning strategy for Congress Heights, which it will present to community leaders this spring. Co-taught by Peter Byrne (Law) and Uwe Brandes (Urban Planning), this spring's class represents an ongoing collaboration between the two instructors.
Traditionally, city planners have focused on setting the ground rules for public and private development, said Brandes. Now they are taking a more active role in helping to set up community partnerships and crafting strategies to help achieve equitable development. Brandes' class exemplifies this new approach, which faces issues like community preservation straight on.
Confronted with the ongoing flow of private capital into vulnerable communities, "we could sit on our hands and do nothing, or we could try to envision positive outcomes and create new strategies," Brandes said. "You can't just wait for city-wide policies to implement themselves; communities need concrete strategies to be hands-on and shape their own fate."
New Development
Recently, the students completed an analysis of the community's housing, transportation, health, education, and other key resources. It shows that even before Amazon's announcement, parts of Congress Heights were changing in ways that were unimaginable even a few years ago.
Last September, the District of Columbia opened a 4,200-seat Entertainment and Sports Arena on the East Campus of the sprawling St. Elizabeth's Hospital complex, near the Congress Heights metro stop. The site is now home to the Washington Mystics and the NBA G League's Capital City Go-Go and serves as the practice facility for the Washington Wizards.
The West Campus of the former hospital grounds is being developed by the U.S. General Services Administration and is expected to be occupied this spring by the Department of Homeland Security (DHS). While relatively self-contained due to federal security requirements, DHS will bring many new workers to Congress Heights and may provide demand for commercial development on the hospital's East Campus, which would be a direct economic benefit to the existing community.
Wealth and Race Disparity
For years, Congress Heights has suffered from disinvestment. Just 29 percent of residents own their own homes, compared with 62 percent for adjacent Prince George's County. According to an analysis by the Washington City Paper, the area surrounding the Congress Heights Metro stop is the poorest on the Metro system, with a median household income of $31,735­—$115,895 less than the highest-income stop, Friendship Heights.
The wealth gap—for the entire metropolitan Washington, D.C., area—is even greater, with white residents having an average of 81 times more net worth than black residents, according to a 2016 Urban Institute report.
The reasons for this enormous disparity are well-documented.
"Black people in D.C. have faced more than two centuries of deliberately constructed barriers to wealth-building, and some of the highest barriers were embedded by design in law," the Urban Institute report says. "Whether enslaved, barred from jobs in lucrative sectors, diverted from a stake in land giveaways, seeing their neighborhoods targeted for 'urban renewal,' or watching their housing options squeezed by redlining, black families in the District have had little chance to build wealth."
'They Are Our clients'
Whether black residents share in some of the wealth that is coming to Congress Heights will depend largely on the mechanisms put in place to help them stay in their homes. Among the strategies that have shown promise in other communities are nonprofit Community Land Trusts, which enter into long-term, renewable leases with residents to keep rents from escalating; and Real Estate Investment Trusts (REITs), which give private developers of affordable housing broader access to capital and more flexibly in deploying it. Congress Heights also represents a designated Opportunity Zone, which provides relief on capital gains taxes for long-term community investments. It is these kind of mechanisms, and others at the innovative edge of urban planning, that Georgetown students are exploring.
"We want to be able to provide good, effective strategies for the community, said Carlos Pazmino, a graduate student in the Urban Planning program. "In the end, they are our clients. We want to give them tools so eventually they have a say in the development of their community."
Learn more