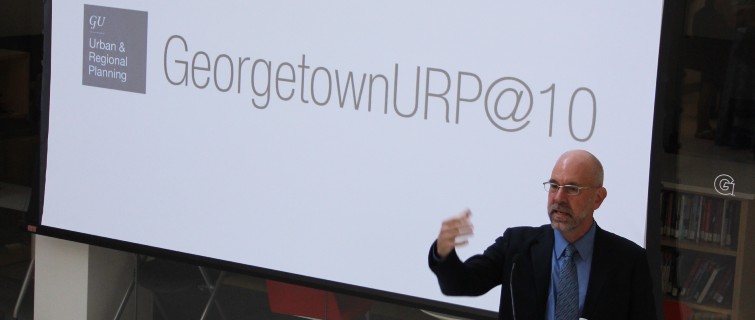 Capping a remarkable journey, the Master's in Urban & Regional Planning (URP) program at Georgetown's School of Continuing Studies celebrates its 10-year anniversary. This milestone underscores its transformative evolution from a simple two-page memo to a thriving community of faculty, students, and alumni who champion the art and science of city planning.
A decade ago, the Urban & Regional Planning program was brought to life under the visionary leadership of Faculty Director and Professor of the Practice Uwe Brandes. Today, this program speaks to the potency of innovation and unwavering dedication to professional city planning practice. Its initiatives have established a legacy of impactful contributions to urban communities in D.C. and beyond, embodying the power of proactive, equitable planning on the urban landscape.
"We are just getting started!" said Brandes. "Our students are being trained to be leaders and changemakers, and the breadth of our program's impact is riding on their professional accomplishments."
At the heart of this program are its exceptional, practice-based faculty members. A global network, they are purpose-driven professionals who firmly believe that when urban planners combine knowledge, expertise, and civic leadership, they can bring about transformative outcomes that challenge the status quo.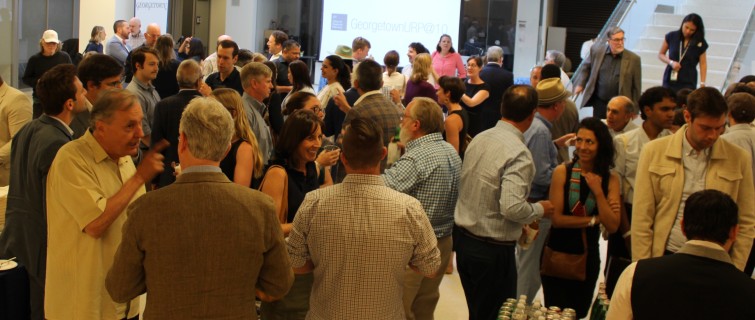 Marking Triumphs of a Decade
The program's success is exemplified through a series of outstanding achievements, especially in the D.C. area. For instance, collaborations with community leaders have successfully addressed significant investments in Congress Heights–a testimony to the program's dedication to equity and community-centered progress. Additionally, the program's commitment to enacting livable and accessible urban environments is tangible in endeavors such as the launch of Alexandria's parklet initiative, and advocacy for inclusive regional bike trails across the National Capital Region.
The program's influence has also grown beyond the D.C. metro area. For instance, through collaborative efforts between students and faculty, it was instrumental in the inception of Detroit's first youth engagement platform. URP students and faculty also collaborated with the city of Miami to anticipate the societal facets of climate adaptation, underscoring the program's commitment to sustainability and resilience. Lastly, students lent their expertise to counsel the city of Raleigh, North Carolina on an expansive mixed-use development project.
As the Urban & Regional program has developed over the last decade, it has also emerged as a leader in urban planning education. Demonstrating resilience and innovation, it has pioneered innovative approaches to virtual education and fostering student-centered community through digital tools. Despite many challenges–especially in the last few years of the pandemic–ultimately it has stayed true to its core approach: by extensively integrating field studies, students acquire essential professional knowledge and skills that distinguish them from others in the industry.
Nurturing Global Engagement
The program's impact resonates globally, affording students exceptional opportunities to connect with communities worldwide. The hands-on practice is especially evident in the Pacific Cities Sustainability course, which requires students to travel to East Asia in order to explore unprecedented urban development trends across the Pacific Rim.
A signature course, many students have shared that traveling to Asian cities has changed their lives and transformed their professional development goals. Alumnus Patrick Revord (G'17) fondly recalls his experience during the Pacific Cities Sustainability course in China.
"Those classmates quickly became friends that I still keep in touch with, and we have now become the next generation of planning leaders in D.C.," said Revord. "The Georgetown URP program gave me the knowledge, skills, and industry connections to advance my planning career much more quickly than I could have done otherwise, and the program staff members remain some of my closest career mentors."
Tara Brown, a current student, also cited her peers as a vital part of the program's fabric. "Georgetown classes created a safe space for me to be authentic and express my thoughts all while being an incubator to join like-minded students that challenged my way of thinking," Brown shared.
Amid the pandemic, Brown embarked on her URP journey, adding a strategic layer to her background in architecture, construction, project management, and security. She shared that this next step has proven to be integral in navigating the next chapter of her career.
"I can honestly say that it was one of the most rewarding decisions I've made," she said.
A Celebration To Remember
With so much to celebrate, the Urban & Regional Planning program hosted a special ten-year anniversary event on September 8. More than 100 current and prospective students, alumni faculty, staff, and partner organizations, including SCS Dean Kelly Otter, gathered at the SCS campus downtown, representing the extended community of practice embodied by the program.
The packed afternoon was filled with thought leadership dialogues and reflections, followed by a lively reception. The topics discussed covered a wide range: from student and alumni speakers sharing inspiring experiences in the program, to faculty and guest speakers discussing challenges already facing the field, such as eradicating homelessness and designing equitable public transportation.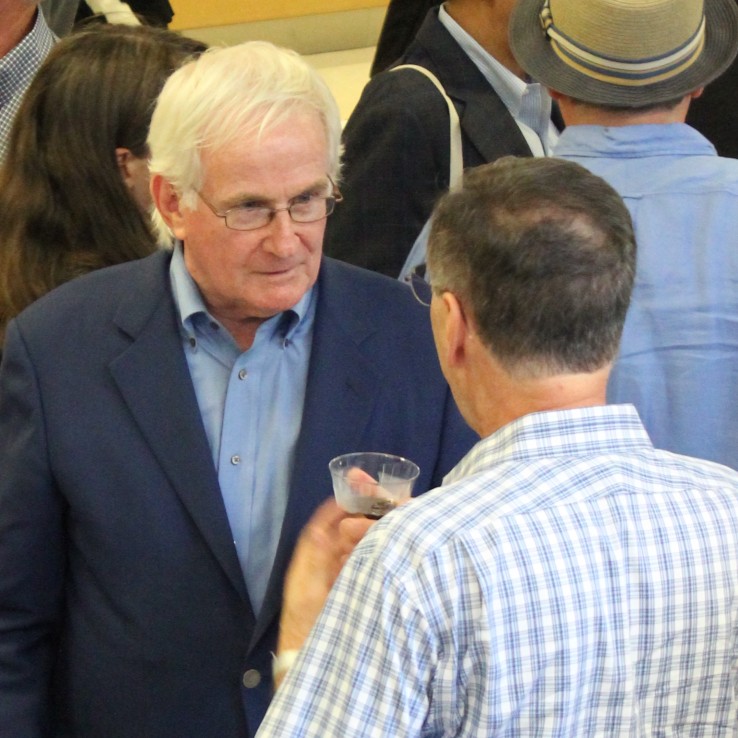 The celebration's keynote speaker was the Hon. Thomas Murphy, who served as the former mayor of Pittsburgh from 1994 to 2006. In his address, he urged the program's community in particular to understand the unique power they hold as urban planners, and their responsibility to take action.
"You're the keepers of the future," said Murphy. "You need to look around the world and see what's working and what's not. ... You need to be willing to move quickly, not take years, as so often the case, and you need to have an appetite for risk. That appetite for risk means you're challenging the status quo."
Navigating Tomorrow's Challenges
In an era marked by escalating challenges faced by cities and communities across the globe, URP graduates are at the forefront of pioneering a more sustainable and resilient future. To date, there are 161 alumni of the program, and many are already serving in senior policy and decision-making roles.
"Cities are in the midst of rapid transformations, shaped by forces like digitization, social equity, and the imperative to address climate change holistically," Brandes reflected. "Georgetown's Urban & Regional Planning program has emerged as a national leader, seamlessly integrating these factors into the urban planning curriculum."
With a strong community of faculty, students, alumni, and staff, the Urban & Regional Planning program is already looking ahead to the next 10 years of growth. No matter what may lie ahead, such a forward-thinking approach is a testament to its community's dedication to shaping more equitable, sustainable, and resilient urban spaces for the future.
Learn more