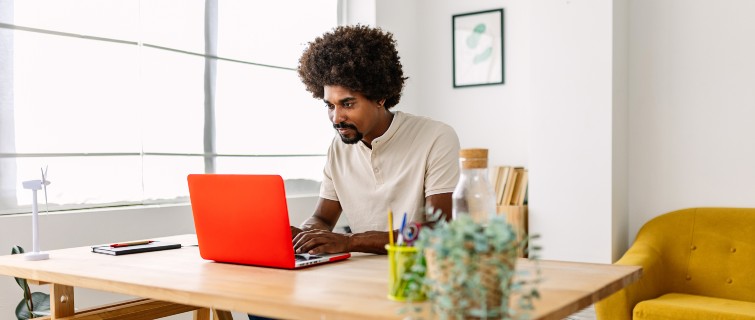 A 35-year-old learns differently from a 19-year-old. They have different levels of experience and maturity; different expectations about what a class should ask of them and provide; and, perhaps most important, different demands on their time.
The students pursuing any of the 35 professional certificate programs at Georgetown University's School of Continuing Studies (SCS) are a diverse group, but they share some commonalities. Their median age is about 37 years old. More than 60 percent have graduate degrees.
"These people are midlife, mid-career," says Jeffrey Warner, Senior Director of Professional Development & Certificates at SCS. "They are very busy people, so they value their time and value easy access to learning opportunities. What they value is totally different than what a 19-year-old undergrad may value or a graduate student may value."
A New Way To Learn
It was with these students in mind that Warner's team designed a new course delivery format called SDL+ (Self-Directed Learning Plus). The model combines individual online study that students can do on their own time with a weekly 60-to-90-minute "live" online session with their fellow students and instructor.
The live session is what makes SDL+ different from typical asynchronous online courses, and it was included after much research into what adult learners want. That includes the chance to get to know their instructors and peers, and the opportunity to share what they have learned from their own work and life experiences.
"Our learners are customers, and they know how they want to learn," Warner says. "They're saying, 'Give me the flexibility to learn during the week. I'm a very busy person, but I also need the interaction, need that engagement with a Georgetown faculty member and other professionals in my class.'"
With a variety of professions and experience levels represented in class, students can learn from each other as well as from the instructor, says Vanessa Berruetta, who recently completed the Certificate in Data-Driven Decision Making. "I'm in HR, and we had someone else [in the class] in marketing. So, having everyone bring their real-life example was really helpful."
And, because the program is completely online, it opens the Georgetown experience to professionals throughout the United States and the world.
A Plan for the Future
Designing an online certificate program is a lengthy process that involves several specialties. Led by an instructional designer, the team also includes from one to six subject matter experts who design and develop content based on their area of expertise and teaching experience, as well as a videographer and a graphic designer. The process can take as long as six months, with the instructional designer putting in more than 200 hours on the project and the rest of the team adding another 150 or more.
Taught by instructors with extensive experience in their fields, each certificate program also includes a segment on ethics as it applies to a specific field. This is one hallmark of Georgetown's Jesuit approach to teaching, which, regardless of the program, seeks to educate "the whole person" and not simply provide technical knowledge.
"When we work on a course or a program, the instructional designer engages in a discussion with a subject matter expert on how Jesuit values can be included in the design," says Anna Butsay, SCS's Associate Dean of Learning Design. "We then explicitly state which values we are aligning with and how in each design document."
When the pandemic forced the cancellation of in-person classes in March 2020, these teams had to forgo this rigorous design process and move all classes to live online sessions within a matter of weeks. The priority became replicating, as closely as possible, the in-class experience online and saving more complicated online technologies for later.
The approach got good reviews from many students, who appreciated that the program was doing its best to recreate the feel of the classroom. But students were also telling Warner's team that a hybrid model—involving both asynchronous and real-time instruction—would give them both personal interaction and the flexibility to schedule most of their classes on their own time. This encouraged the team to develop SDL+.
Prior to 2020, 90 percent of Georgetown's professional certificate programs were in person, Warner says. Now, 90 percent are online.
"We're going through this transformation," Warner says. "We still have asynchronous classes. We still have live online. But as we develop new certificates, we will be building on what we have learned from developing SDL+. Our faculty members and our professional learners are giving it rave reviews. They say, 'This is the right mix. This is the way I want to learning in 2023, 2024.'"