Master's in Project Management
Franklin Ortiz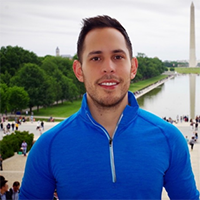 At Georgetown's School of Continuing Studies, instructors work hard to recreate the kind of real-world conditions students face on the job. This ensures that the education they receive is not only theoretically sound, but also relevant and immediately applicable to their careers.
Thus, it was not particularly unusual when, late in the semester, the instructor in one of Franklin Ortiz's Project Management classes unexpectedly changed some specifications on the final project, added more deliverables—and moved up the project's deadline by two days.
"He threw us a curveball to test our capability to manage change," said Ortiz, who completed the program this year. "That forced us to be much stronger decision-makers."
So the class appreciated this thoughtful simulation of the real-world business environment?
"Oh, my gosh. Everyone was freaking out," Ortiz said.
In fact, students do appreciate that their instructors offer hands-on experience, and it's one thing that attracted Ortiz to the program.
A graduate of Brigham Young University, Ortiz is a Business Transformation Analyst at Airbus Americas, Inc., in Herndon, Virginia. Airbus is a global leader in the aerospace industry, operating in the commercial aircraft, helicopters, and defense and space sectors.
"I do everything from business transformation strategy to mentoring project managers in key principles to ensure their projects are carried out successfully," Ortiz said.
Ortiz was also attracted to Georgetown because of its academic excellence and its commitment to training leaders who can serve society, wherever their careers take them.
"If you say you went to Georgetown, people know that you're ethical, that you're a hard worker, and that you uphold principles, such as integrity and respect," he said. "Going to Georgetown was not an ordinary experience; it was inspiring and educational."