Master's in Project Management
Ginnie Khoza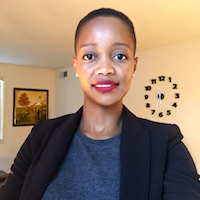 What do a banker, a hospital director, a specialist in domestic violence, and a data manager for clinical medical trials have in common?
Not long ago, they were all members of a student team that collaborated on an out-of-class exercise for Georgetown's graduate program in Project Management.
"The great thing about the Project Management program," said Ginnie Khoza, who was the aforementioned "data manager" at that time, "is that it gives you skills you can apply to any industry."
For their project, the team chose to design a layaway program for Amazon customers. The fact that none of them were employed in anything remotely resembling online sales—well, that was beside the point. The skills project management teaches are practical ones that can be applied in a variety of contexts. This includes skills like communication, budgeting, time management, and the ability to navigate often-complex regulations.
Originally from Swaziland in Southeast Africa, Khoza, an outstanding high school student, won a scholarship through the UWC (United World College) Scholars program to attend Westminster College in Fulton, Missouri. After graduating with a degree in biology in 2009, she earned a master's in biology at Indiana University-Purdue University Indianapolis and went on to work in infectious disease research at Johns Hopkins University.
Khoza joined the staff of Georgetown's Lombardi Comprehensive Cancer Center as a data manager in 2014 and enrolled in the Project Management program two years later. In December of 2017—less than a month before graduating—Lombardi promoted her to Multi-Site Clinical Trials Project Manager. Now she oversees investigator–initiated trials (those not funded by pharmaceutical companies) at multiple locations.
"My job as the project manager is to get all the little pieces that are required for a site up and running," she said.