Master's in Project Management
John Nikiforakis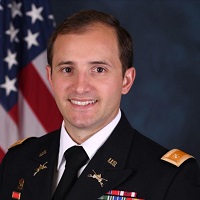 John Nikiforakis is a product manager. And, like product managers everywhere, his job is to see that he guides the products through design and production to meet customers' needs.
However, the products Nikiforakis manages are a bit more, well, specialized than most.
"Our customers just happen to have a little different needs," Nikiforakis said.
Maj. Nikiforakis is an Assistant Product Manager at PEO Soldier, a division of the U.S. Army that is charged with the enormous task of outfitting every soldier in the U.S. Army with everything from protective equipment, to electronic sensors, to weapons and gear.
When Nikiforakis applied to the Georgetown Master's in Project Management program, he had already gained considerable expertise as a Contracting Officer at Fort Knox, where he managed government contracts worth more than $40 million. But he wanted to learn more about project management, and do so in the kind of broad-based, comprehensive program that Georgetown offered.
"My time at Georgetown really exposed me to industry professionals that I'm not used to seeing," he said. "In the Department of the Defense and government, you're oftentimes just exposed to a limited number of professions. At Georgetown, you get all walks of life, all professions, from all over the globe. And that kind of experience and exposure is something you really can't get anywhere else."
In addition, like all students in Georgetown's Master of Professional Studies degree programs, Nikiforakis took an Ethics course tailored specifically to his industry. It became his favorite class.
"The class schedule, the class form, the facilities—they're all conducive to wanting to put your best foot forward and learn," Nikiforakis said. "To not be afraid to step out of your comfort zone and build yourself as a professional."