Master's in Project Management
Ana Espinoza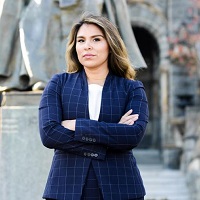 Sometimes, you take a leap, and it's a much bigger one than you expected. And, while that can be a bad thing, of course, it can also lead to new insights, new discoveries, and, for Ana Espinoza, a new career.
For more than 11 years, Espinoza was a Government Information Specialist at the Environmental Protection Agency, where much of her work involved shepherding Freedom of Information requests through an exacting government process. It wasn't project management per se, but it had a similar methodology, and Espinoza became quite good at it.
So, when she decided to advance her career by earning a graduate degree, Georgetown's Master's in Project Management program seemed like a good fit—and it was. But it was also more of a stretch than she anticipated. Because, as it turns out, project management can sometimes be much more demanding in the private sector.
"I was very confident, and a month in, I thought, 'Oh, my gosh, I've got to be a sponge,'" Espinoza said. "But that's how you know the program works, because, even though I had climbed the ladder, even though I was excelling in my career and was calling myself a project manager, I really didn't have all the tools in my tool bag."
As it turned out, becoming a "sponge" for new skills and information was just the right approach. Espinoza advanced quickly through the program, learned those new skills, and, for her Capstone, chose to work with Airbus, the multinational aerospace corporation that has a partnership with Georgetown.
A few months after graduation, Airbus hired Espinoza as a Program Management Office Lead.
"I really liked their concept. I really liked how they worked as a team," Espinoza said. "And I saw an opening, and they reached out to me."