Online Master's in Emergency & Disaster Management
The Online Experience
Introduction to Canvas
Canvas is the online learning management system for all of your courses at Georgetown. This platform enables you to access the syllabi, course-related materials, assignments, assessments, grades, and communications provided by instructors. All courses for which you are registered will populate in Canvas in advance of the start of each semester.
Canvas Tutorial
What better way to learn about Georgetown's online programs and courses than to hear directly from online students. In this short video, our students will introduce you to Canvas, our online learning platform, which allows you to complete your coursework around your busy schedule.
Experience Taking a Course in Canvas
Should you become an Online Master's in Emergency & Disaster Management student, this is an example of what you might experience in a specific course in this program. This view-only course is modeled after an actual course and is designed to give you a sense of what to expect as an online student. Should you become a Georgetown online student, you will be able to interact with and take full advantage of the Canvas learning system.
[Please note that this course is offered for demonstration purposes only and is provided "as is" with limited features and functionality.]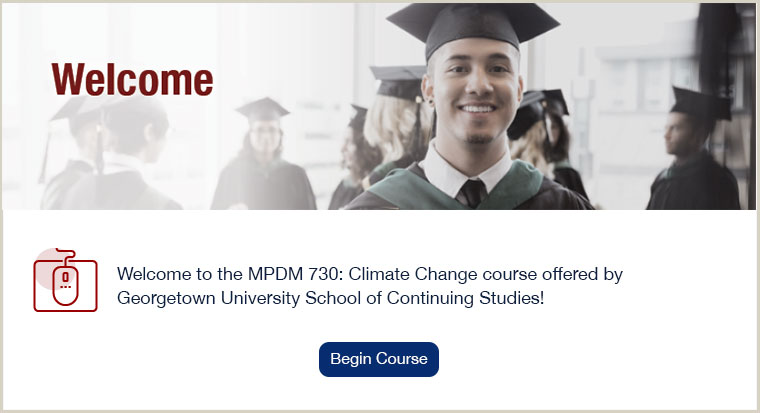 Georgetown's online courses provide the same academic content as the on-campus courses, awarding the same number of credits, meeting the same learning objectives, and featuring the same expert faculty.
We utilize the Canvas online learning platform to help instructors make online learning more interactive, authentic, and effective. We also supplement many of our online courses with tools such as VoiceThread, PollEverywhere, and TurnItIn. These methods of enhanced learning provide a robust academic experience that enables global networking among students, faculty, and industry partners.
Most online courses are asynchronous–allowing for a flexible time frame for you to listen to lectures, complete readings, and submit assignments. Online courses often include synchronous videoconference sessions, during which all students participate at the same time to engage in class discussions, deliver a presentation, or engage with the faculty member or guest lecturer.
Some classes may also be offered in an online synchronous format, meaning students are expected to virtually attend classes on specified days and times, in real-time, using the Zoom platform.