Master's in Supply Chain Management
Faneva Durandisse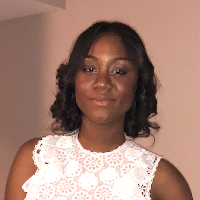 Supply chain management is a little like the board game Labyrinth.
In Labyrinth, players compete to reach various "treasures" on the board. But the thing is, the board keeps shifting. Viable paths close; new ones open up. The game rewards people with good conceptual skills who can think quickly when situations change.
But there's a crucial way in which Labyrinth is not like a supply chain, and Faneva Durandisse, a 2022 graduate of the Master's in Supply Chain Management program at Georgetown University, can tell you why: In the real world, the "board" is infinitely more complex, and the players aren't competing: they're trying to cooperate to reach those treasures (we'll call them products) and take them where they need to go.
And that requires an entirely different set of skills.
"I'm a people person," says Durandisse, a Supply Chain Planner for Luxury Brand Partners, LLC, near Miami. "And, especially in this industry, you have to have those skills."
Originally from Haiti, Durandisse became fascinated with the field as an MBA student at the University of Miami. She liked the intellectual challenge and the opportunity to communicate with colleagues from around the world. After graduating, she sought more specialized training, enrolled in Georgetown's program, and started her career working with stakeholders in the United States, China, Canada, and Italy.
Juggling work and school was "overwhelming, but rewarding," she says. Especially valuable was her Capstone project, in which, over the course of a semester, she researched and developed a prototypical transportation management system for her company.
The Capstone "forces you to really get out there and ask questions," Durandisse says. "And then, when you ask questions, you learn so much about a business than you would have never learned before. And it's a great opportunity to work within an actual organization."