Master's in Supply Chain Management
Faculty
Message from the Faculty Director
Virtually every organization has a supply chain of some type. While some supply chains are loose-knit streams of work that cover indirect products or services, other supply chains are sophisticated, well-connected structures that dominate those organizations' business strategies. There is growing recognition that effective supply chain management can greatly increase business performance, which is why your decision to pursue a master's degree in this field is so timely.
Our program's mission is to equip students with the knowledge, tools, and skills necessary to build and manage fully integrated, global supply chains that drive better business performance. Our applied curriculum is centered on real-world examples taught by individuals who have both technical knowledge and practical industry experience.
In addition to the emphasis areas of Planning, Strategic Sourcing, and Logistics & Fulfillment Management, we focus on building leadership and relationship management skills, which are a core thread in every successful supply chain. As a graduate of the program, you'll be well prepared to take on broader and more strategic roles within your organization.
I'd like to personally welcome you to the Master's in Supply Chain Management at Georgetown University!
Linda Dunn
Faculty Director and Assistant Professor of the Practice, Supply Chain Management
---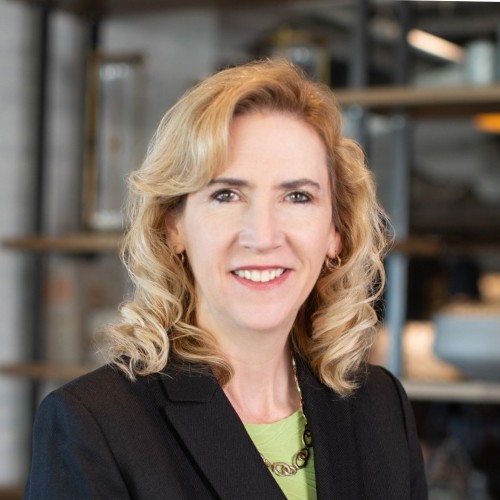 Linda Dunn
Faculty Director
Linda Dunn, MBA, is the faculty director and assistant professor of the practice for the Master's in Supply Chain Management at Georgetown University's School of Continuing Studies.
Dunn's focus area is on developing agile supply chains that are highly interconnected with partners and integrated within an organization.
Before joining Georgetown University SCS, Dunn served as VP Supply Chain & Quality Assurance for HMSHost, a global leader in creating dining for travel venues. In her role at HMSHost, she oversaw North American supply chain and quality assurance functions including Procurement, Distribution, Category Management, Supplier and Operations Food Safety, and Supplier Relationship Management. Other prior experiences at HMSHost spanned the areas of Financial Planning & Analysis, Business Process Analysis, and Revenue Optimization. Dunn has played a strong role in sustainability efforts and previously served on the inaugural National Restaurant Association's Conserve Sustainability Advisory Council. Prior tenures before HMSHost included roles in the telecommunications and banking sectors.
Dunn earned her MBA from the Robert H. Smith School of Business, University of Maryland, and obtained her BBA from James Madison University, graduating summa cum laude with a double major in Finance and English.
---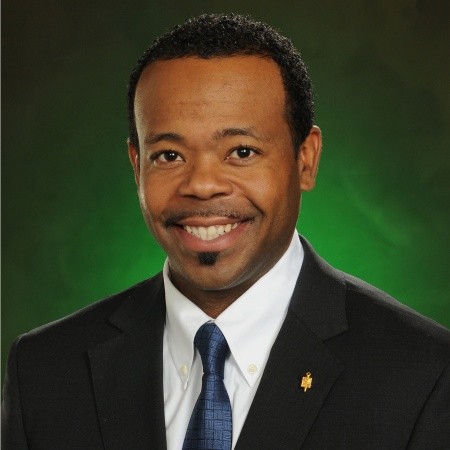 Justin Goldston
Subject Matter Expert and Faculty
Dr. Justin Goldston, CSCP, CTL, PLS, LSSBB, CSM is a Certified Management Consultant with over 20 years of experience working with organizations around the world on business performance improvement, organizational change, and enterprise-wide digital transformation initiatives.
Dr. Goldston has held various leadership roles at consulting organizations, assisting companies such as Intel, Siemens, and Blue Buffalo on creating a competitive advantage through supply chain design and enterprise applications. He is the author of multiple peer-reviewed journal articles on leadership, supply chain management, innovative technologies, and of Critical Success Factors in ERP Implementations as well as a five-time TEDx speaker where he discussed emerging technologies such as blockchain and Artificial Intelligence.
Dr. Goldston, a seasoned educator, has led the development of a Supply Chain Management program and has evaluated graduate programs for the Department of Higher Education while serving on the Advisory Board at a number of higher education institutions. Dr. Goldston holds certifications in the areas of Supply Chain Management, Lean Six Sigma, Agile, and Blockchain.
Dr. Goldston has a Ph.D. in Leadership and Organizational Change and an M.Phil in Leadership and Organizational Change from Walden University, a Master's in Supply Chain Management from Penn State University, and a Bachelor's in Supply Chain Management from North Carolina A&T State University.
---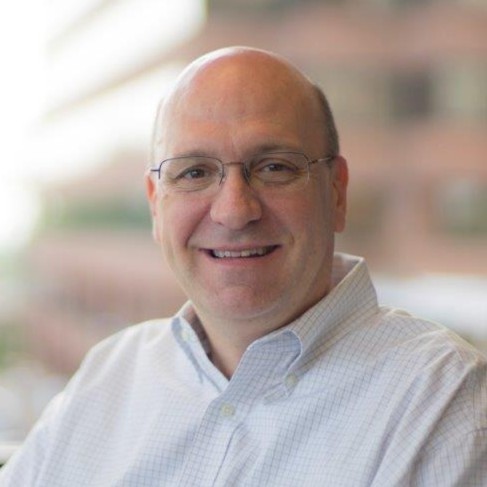 Robert Heaton, MBA
Faculty
Mr. Robert Heaton has served in senior financial and operational leadership positions across multiple industries and organizations.
He most recently retired from his position of Chief Financial Officer (CFO) of the Stand Together community of organizations—both non-profit and for-profit. During his six years with the Stand Together community, he oversaw the finance, accounting, internal audit, and operations areas. Before joining the Stand Together community, he spent six years as CFO of Avendra, the leading procurement and supply chain services company in the hospitality industry. In addition to finance, his responsibilities there included data management and customer and supplier analytics. For the prior seven years, he served as CFO of WorldWide Retail Exchange/Agentrics, a technology company servicing the retail space. During his tenure, he helped lead a merger with a competitor and oversaw integration activities. He was also instrumental in orchestrating a joint venture with an international competitor.
He began his career at Target headquarters where he held various financial and operational positions over thirteen years, including leading Target's expansive import operations. His last position at Target was as Vice President of Financial Planning and Analysis, leading Target's long-term planning, budget development, forecasting, and capital planning functions.
Mr. Heaton holds an MBA from Brigham Young University (BYU) with an emphasis in Finance. He also holds BS/BA degrees in Accounting and Chinese from BYU.
---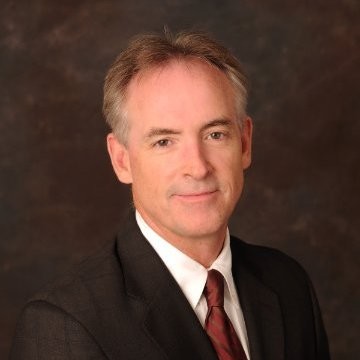 James Jacobe
Subject Matter Expert and Faculty
Mr. James Jacobe, MBA, CEL is currently a principal at the consulting firm, Vandive Solutions LLC where he focuses on operational and supply chain consulting.
Mr. Jacobe's wide-ranging business experience combines accomplished leadership with extensive expertise. Mr. Jacobe has held numerous leadership positions in Operations and Supply Chain including those of COO, SVP/VP Operations and VP Supply Chain. His breadth of experience across multiple business sectors including Consumer Goods, Technology, Personal Services, Retail Direct-to-Consumer and Construction provides him a unique perspective on business strategies, processes and procedures. Mr. Jacobe enjoys applying his unique People, Process and Systems methodology to serve as a thought leader and change agent in a sometimes-stagnant business world. He thrives on complex challenges and enjoys tackling a wide variety of issues related to Supply Chain/Logistics, Operations, Technology, Quality, and Asset Protection.
Mr. Jacobe was the recipient of the Smart CEO's 2014 COO Executive Management Award for his work as Chief Operations Officer of America's Remote Help Desk. He holds a Six Sigma Green Belt and is a Certified Executive Leader (CEL).
Mr. Jacobe completed his MBA from Loyola University Maryland, and his Bachelor of Science in Management from National Lewis University. Hobbies include reading business books, scuba diving, golf, and exercising.
---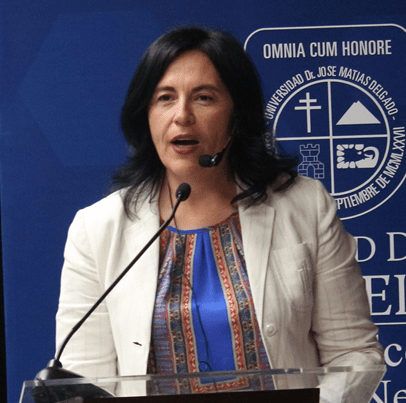 Lelia Mooney, LLM
Subject Matter Expert and Faculty
Professor Mooney is a renowned expert on governance and rule of law, business, human rights and sustainability, diversity and social inclusion, conflict management and transformation, and multi-stakeholder engagement. She has over 25 years of experience managing complex projects and teams working across the Americas and also in Africa, Asia, and Europe in the context of foreign assistance and international development initiatives.
She currently works as the Executive Director of the Center for the Advancement of the Rule of Law (CAROLA) at Georgetown Law. Additionally, she does International Consulting in her areas of expertise. She currently serves on the Board of the American Bar Association Center for Human Rights, is a Member of the Board of Governors of the Washington Foreign Law Society, and is active on several charities and multi-stakeholder platforms. She teaches experiential learning courses on Business, Human Rights, and Sustainability and has lectured at multiple universities. She is a regular contributor at numerous conferences and panels in the U.S. and abroad.
Previously, she served on the International Steering Committee Board of the Voluntary Principles for Business and Human Rights and the United Nations Global Compact Business for the Rule of Law Initiative. She is the author of several publications in English and Spanish including "Promoting the Rule of Law: A Practitioner's Guide to Key Issues and Developments," and "The Business, Human Rights and Sustainability Sourcebook," both published by the American Bar Association. She is fully bilingual in English and Spanish and also speaks French and Portuguese.
Professor Mooney received her LL.M from Georgetown University Law Center and holds an LL.M in Law in Developing Societies from the University of Warwick Law School in the UK. Her undergraduate degree is an LL.B from Universidad Nacional del Nordeste in Argentina.
---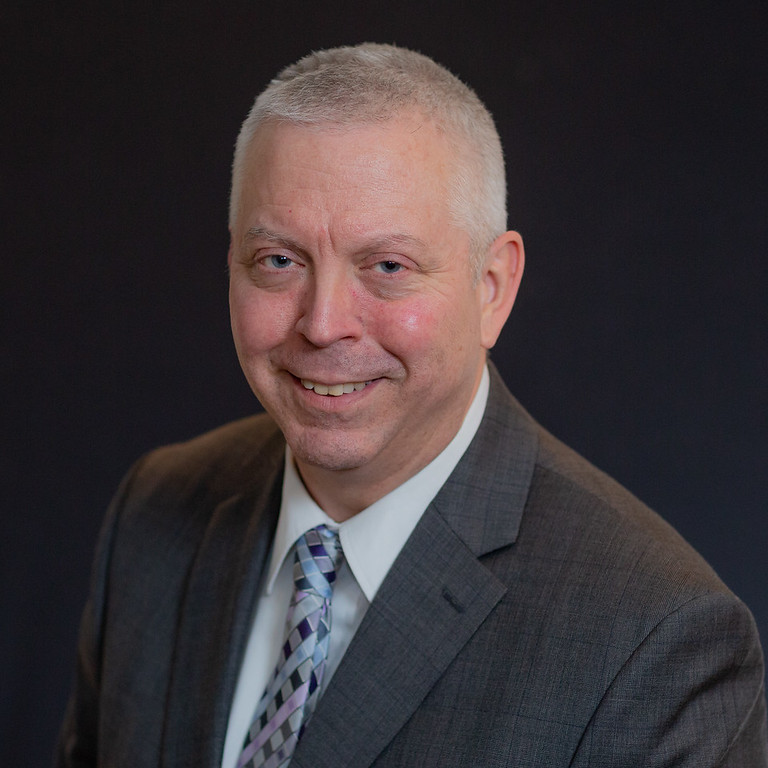 Stephen Spulick
Subject Matter Expert and Faculty
Dr. Stephen R. Spulick is currently the Vice President of Supply Chain Management for the Washington Metropolitan Area Transit Authority (WMATA) where he leads Metro's Supply Chain and their Supply Chain Transformation program.

Dr. Spulick brings over 15 years of practical and academic experience in both military and civilian contexts. He recently retired from the US Army's Medical Service Corps where he worked in the field of Medical Logistics. His previous military experience includes time in the Military Intelligence Branch as an analyst and linguist and in the Field Artillery Branch in Korea and Germany. His military logistics experience also includes a Naval deployment in the Mediterranean, two Operation Iraqi Freedom deployments and three years in command of a Medical Logistics Company, to include roles as a liaison to the main ground transportation Command and as the Commander of a Medical Supply Warehouse serving customers throughout Iraq.
In addition to his government and industry experience in supply chain, Dr. Spulick has taught a variety of courses in Green Logistics, Government Contracting, Healthcare Supply Chain Management and Global Supply Chain Management at a number of Universities. He particularly enjoys curriculum development and recently updated the unique Medical Logistics Internship Program for the Army Medical Service Corps at Fort Detrick in addition to his work here at Georgetown University.
Dr. Spulick received his Bachelor's Degree from Fordham University, his MBA from the University of Phoenix and his Ph.D. in Logistics/ Supply Chain Management from Georgia Southern University.
On a personal note, he has four children and lives just outside Washington, D.C.
---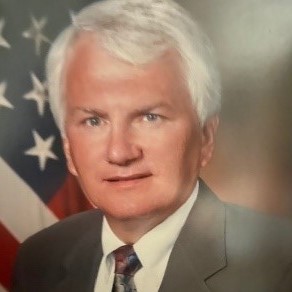 Ron Treusdell, MS
Faculty
Mr. Ronald L Treusdell is currently the Vice President, Federal Business Sector, for Oakland Consulting in Lanham, MD where he leads multiple projects in support of information technology and Enterprise Resource Planning (ERP) initiatives for Federal clients. Mr. Treusdell brings over 35 years of experience in improving supply chain and logistics processes and in developing and executing ERP solutions.
He retired from the Department of the Army as a member of the Senior Executive Service (SES) with notable assignments as the first Executive Director of the US Army Logistics Support Agency (LOGSA) at Redstone Arsenal, AL and later as the Assistant Director for Supply Policy, Army G-4, in the Pentagon. Prior to his civilian tenure with the Army, he spent over 23 years as a logistics officer in the US Army Reserves and 10 years in the Active Army.
After his military and Government experience, Mr. Treusdell served as a Managing Director at KPMG/BearingPoint where he led their efforts in support of the US Army's Logistics Modernization Program (LMP), an SAP solution that modernized the Army's logistics and financial business processes. Later, he served as a Principal with Booz Allen Hamilton where he led supply chain efforts in support of the US Army.
Mr. Treusdell received a BS in Business from the University of Maryland, graduating summa cum laude, and an MS in Systems Management from the University of Southern California.
On a personal note, he has two children and resides in Churchville, MD.
---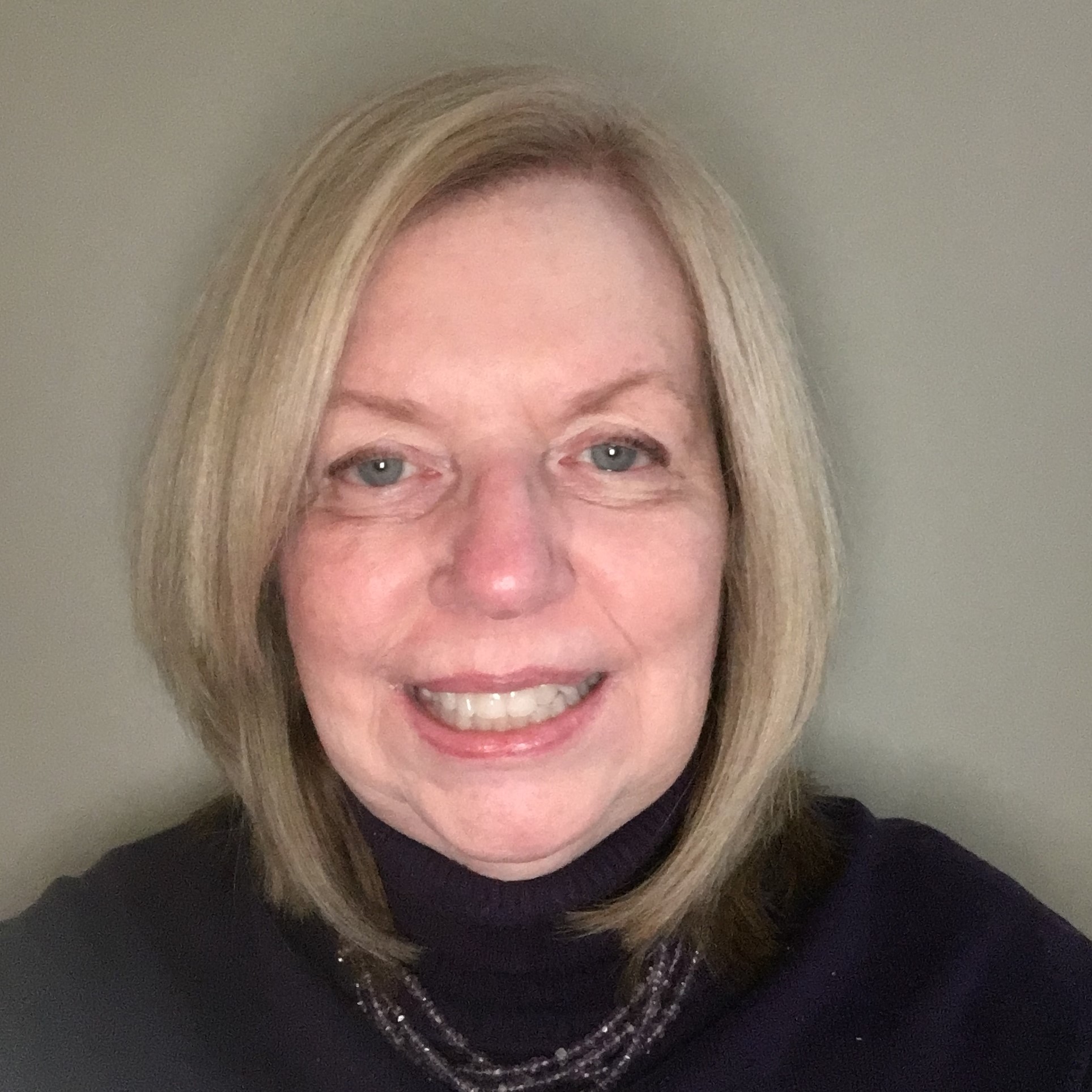 Rita Wells
Subject Matter Expert and Faculty
Rita Lappin Wells, Ph.D. has an extensive supply management background in both the private and public sectors. As an executive for a Fortune 500 corporation, Dr. Wells provided leadership for global subcontracting, purchasing, pricing, audit, and material management. As an industry executive, she also provided technical assistance to government organizations on international contracting, construction management, and financial assistance.
As a senior executive with the U.S. government, Dr. Wells managed multi-billion dollar programs while serving as a Deputy Assistant Secretary at the U.S. Department of Energy and an Associate Administrator at the U.S. Department of Transportation. She also has served in a variety of Department of Defense organizations in the United States and Japan as a contracting officer and cost/price analyst.
Dr. Wells is the recipient of many awards including both the Presidential Distinguished and Meritorious Rank awards that are awarded to less than one percent of government senior executives. She is a Fellow of the National Contract Management Association (NCMA) and earned a professional certification as a Certified Professional Contracts Manager (CPCM).
Dr. Wells is a member of the Editorial Board for the Journal of Contract Management and a member of the NCMA Board of Advisors. An experienced educator, Dr. Wells was a faculty member at the Industrial College of the Armed Forces and the Air Force Institute of Technology as well as other institutions. Additionally, she is a member of the Falls Church Volunteer Fire Department serving as Treasurer.
Dr. Wells earned a Ph.D. from the Ohio State University, an MBA from Southern Illinois University with a concentration in finance, and a BA from the University of Illinois.