Program in
Master's in Supply Chain Management
Faculty
Message from the Faculty Director
Virtually every organization has a supply chain of some type. While some supply chains are loose-knit streams of work that cover indirect products or services, other supply chains are sophisticated, well-connected structures that dominate those organizations' business strategies. There is growing recognition that effective supply chain management can greatly increase business performance, which is why your decision to pursue a master's degree in this field is so timely.
Our program's mission is to equip students with the knowledge, tools, and skills necessary to build and manage fully integrated supply chains that drive better business performance. Our applied curriculum is centered on real-world examples taught by individuals who have both technical knowledge and practical industry experience.
In addition to the emphasis areas of Planning, Strategic Sourcing, and Logistics & Fulfillment Management, we focus on building leadership and relationship management skills, which are a core thread in every successful supply chain. As a graduate of the program, you'll be well prepared to take on broader and more strategic roles within your organization.
I'd like to personally welcome you to the Master's in Supply Chain Management at Georgetown University!
Linda Dunn
Faculty Director and Assistant Professor of the Practice, Supply Chain Management
---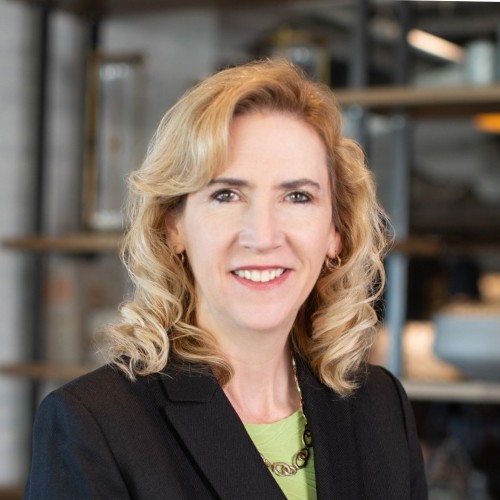 Linda Dunn
Faculty Director
Linda Dunn, MBA, is the faculty director and assistant professor of the practice for the Master's in Supply Chain Management at Georgetown University's School of Continuing Studies.
Dunn's focus area is on developing agile supply chains that are highly interconnected with partners and integrated within an organization.
Before joining Georgetown University SCS, Dunn served as VP Supply Chain & Quality Assurance for HMSHost, a global leader in creating dining for travel venues. In her role at HMSHost, she oversaw North American supply chain and quality assurance functions including Procurement, Distribution, Category Management, Supplier and Operations Food Safety, and Supplier Relationship Management. Other prior experiences at HMSHost spanned the areas of Financial Planning & Analysis, Business Process Analysis, and Revenue Optimization. Dunn has played a strong role in sustainability efforts and previously served on the inaugural National Restaurant Association's Conserve Sustainability Advisory Council. Prior tenures before HMSHost included roles in the telecommunications and banking sectors.
Dunn earned her MBA from the Robert H. Smith School of Business, University of Maryland, and obtained her BBA from James Madison University, graduating summa cum laude with a double major in Finance and English.