Master's in Public Relations & Corporate Communications
Sueann Tannis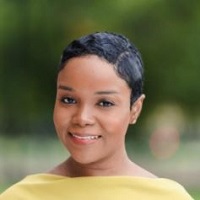 When Sueann Tannis was 10 years old, the United Nations came to Barbados—her home country—for a summit on small island development. It was then, after visiting the UN-sponsored exhibits and watching as a bank of translators interpreted the proceedings for the world, that she made a decision: She would work someday for the UN.
Skip ahead a couple of decades, and Tannis, then a student in Georgetown's Master's in Public Relations & Corporate Communications program, had a similar experience at the World Bank, where she went to meet with her advisor, who worked at the global financial institution. Hanging in the lobby were the flags of many nations, including her own. That also made a big impression.
"Barbados is a tiny country. It's only 166 square miles. It's got 290,000 people, in total, if you push it," Tannis said. "So, when you walk into a space like the World Bank, and see your flag, along with the flags of other small island nations like yours, you feel a sense of belonging."
After graduating from Georgetown in 2013, Tannis became a Communications Consultant for a multibillion dollar World Bank program supporting child and maternal health. Later, she worked as a private communications consultant before moving to the Caribbean Development Bank.
In July 2019, she finally realized her childhood dream, becoming Senior Director of Integrated Communications for the United Nations Foundation, where she is in charge of communications and engagement for more than 2 million constituents.
She says Georgetown has contributed greatly to her success.
"Every moment I went into the classroom," she said, "I was reminded that I was being taught by people who were at the top of their field and who were really passionate about transferring their know-how, their knowledge, their skills, their experiences to their students."