Magaly Delva and Anne-Stewart ("Stewi") Corno have a lot in common. They both majored in communications in college. They're both highly motivated. And they're both pursing graduate degrees in Georgetown University's Systems Engineering Management program.
There is one more thing they have in common—they're both women in a field overwhelmingly dominated by men.
Underrepresented in Science and Technology
Women make up nearly half the nation's workforce as well as more than half of its recent college graduates. Yet they are underrepresented in the sciences, and particularly in the high-paying STEM (science, technology, engineering, and mathematics) fields, which are among the fastest growing in the country.
In 2013, women made up just 26 percent of workers in computer and mathematical occupations, and only 12 percent of engineers, according to a report by the American Association of University Women. For a number of reasons, which could include unfriendly work environments or family responsibilities, more than half will drop out over the course of their careers, said a study by Harvard Business Review.
"It's definitely a male-dominated environment," said Maria Trujillo, Ph.D., Faculty Director of Georgetown's Systems Engineering Management and Technology Management programs. In a field that is constantly evolving, Trujillo said, "it's assumed the man will have the skills to keep up with the rate of change, while women are always being tested."
Confronting these kinds of prejudices takes a sustained effort from many players: among them, parents, teachers, university professors, and employers. Georgetown, with its Jesuit values of inclusion, cura personalis ("care for the whole person"), and service to others, is uniquely suited to challenge these myths, and its technology programs are a good model for how this can be done. Classes are small and cohesive. Students get to know their instructors, who are professionals in the field, and learn from their classmates' varied experiences as well.
The work itself is hands-on and meaningful.
"I like that everything I'm learning in school I'm applying immediately at work," said Corno, a Project Manager for Space Systems at Northrop Grumman Corporation.
Hard Work and Discipline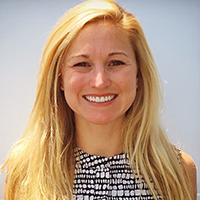 Anne-Stewart ("Stewi") Corno is a Project Manager for Space Systems at Northrop Grumman Corporation.
Corno grew up in Northern Virginia in a family that emphasized hard work, self-confidence, and academic achievement. She and her siblings also pursued competitive sports, and she says her experience playing on teams helped prepare her for a field in which her credentials could be repeatedly, and unfairly, questioned.
"I've had some really tough coaches, both men and women," Corno said. "From those experiences I gained a thick skin and discipline."
She liked science but majored in communications in college, expecting to get into broadcasting or sports marketing. But after a few years working in marketing and as a field hockey coach, Corno changed fields to become a Business Development Operations manager at Northrop Grumman Corporation in Washington, D.C. When she transferred to California and worked as an analyst in the company's aerospace system, her passion for science was rekindled.
She had mentor, a female executive at Northrop who assured her that she was well qualified and did not have to have an engineering degree. "You're smart; you can do this job," Corno recalled her saying. Those words boosted her confidence—so much so, in fact, that she ended up not following all of that advice and decided to pursue that engineering degree as well.
A Search for Something More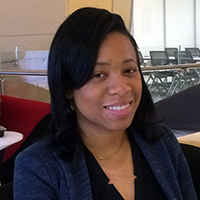 Magaly Delva does work for the FBI as a systems engineer for Hybrid Data Security.
Growing up on Maryland's Eastern Shore, Delva said she "was always interested in how things work and interact."
That curiosity led her to a career in video technology. But though the work was interesting, "I wanted more," Delva said. It was at Lockheed Martin, where she got a job as an analyst doing contract work for the U.S. Department of Justice, that she decided that she and systems engineering were a perfect fit.
Delva is now a systems engineer for Hybrid Data Security, which contracts with the FBI. She is the only woman on her project, and she loves the work. Like Corno—and so many other women who make it in STEM fields—she took a circuitous but logical route to systems engineering.
"You can take systems engineering and do numerous things in various industries," Delva says. "If you put three objects together, it creates a system. So all projects need a systems engineer."
And that need will only grow in the near future. According to the U.S. Department of Education, the growth in STEM jobs is expected to far outpace other employment gains, with jobs for biomedical engineers, medical scientists, systems software developers, and computer systems analysts leading the way. At the same time, studies show that more diverse workplaces produce better results (and a better bottom line) than those with less diversity. In the future, the question may not be, "Will companies hire more women in systems engineering? but, "How can they afford not to?"