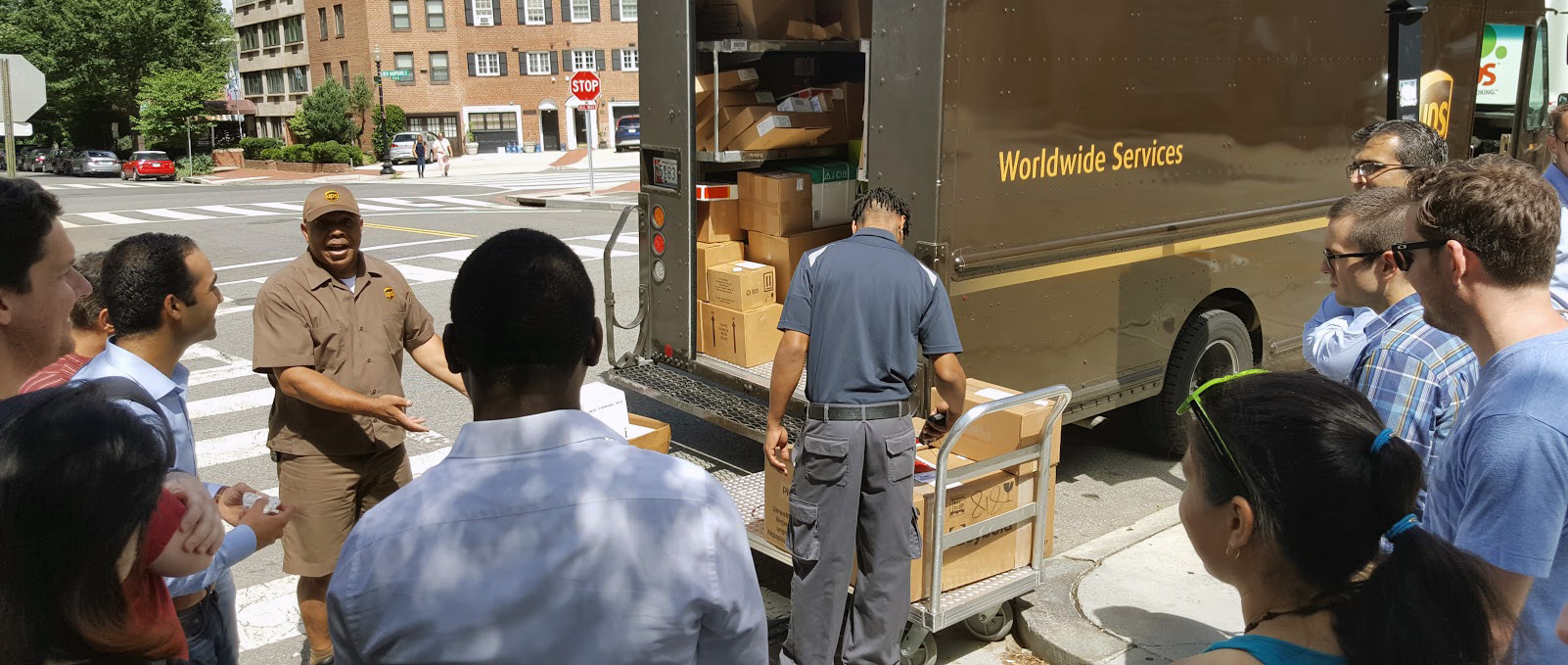 What happens when you take graduate students from two distinct disciplines, give them access to operational data from the world's largest package delivery company, and ask them to improve the quality of life in their city?
That's what professors Uwe Brandes and Maria Trujillo wanted to find out. With support from the United Parcel Service, they created the New Urban Technologies studio class—a cross-listed class offered to students in both the Master's in Urban & Regional Planning and Master's in Technology Management programs, and Georgetown's first dedicated class in smart city design.
"There is so much innovation occurring at the confluence of urban planning and information technology," said Dr. Chris Pyke, adjunct faculty member who taught the course. "There are demands for new information coming from urban planners; and so many opportunities for information technology to help develop new tools for urban systems."
The course was conceived as a planning studio; a client-driven intensive experience dedicated to client-driven problem solving. The class created the space for urban planning and technology management Master's students to share ideas across disciplines addressing the real-world problems that affect all of our lives.
"These skillsets are traditionally siloed," Pyke explained. "Urban planners understand things like public private partnerships, transportation planning, demand management, and growth projection; information technologists understand things like scalability, security, and privacy. But today's world is a fusion of all these things."
Real Solutions in Response to a Real Client
Students were able to meet and learn from employees at the United Parcel Service (UPS) and some travelled on the daily route of a typical delivery truck. Founded over 100 years ago, UPS is increasingly met with modern challenges resulting from economic and societal changes—like consumers' increased reliance on online retailers.
"The challenge of delivering more and more business-to-consumer volume in urban areas is multidirectional," said Tom Madreki, director of urban innovation and mobility for UPS. "We were interested in having a creative group of students think about the ecosystem of urban challenges—how do you design quality public spaces to accept increased package delivery; how do you deliver more efficiently in light of new and old technologies; how do you collect and use new data streams; and how can cities and companies like UPS collaborate to increase quality of life for all?"
The New Urban Technologies students tackled these questions. Using real data provided by UPS, as well as interviews with various UPS stakeholders, students produced ideas that addressed the company's growing needs.
Concurrent Designs for Systems and Places
Over 10 presentations ranged from new ways to optimize delivery modalities, new open space designs to diminish vehicle congestion, and proposals to utilize freight fleets to collect city data. Final presentations included stakeholder representatives from UPS, District Department of Transportation and other urban planning professionals.
"There is no doubt that e-commerce is increasing the volume and frequency of urban deliveries and as a result it is increasing neighborhood congestion. The students really understood this and responded with creative, multi-pronged solutions." said Laura Richards, freight delivery planner at the District of Columbia's Department of Transportation.
And just like that, the SCS classroom became a model for real world practice: students and experts from across disciplines sharing a space to discuss tomorrow's solutions to today's challenges.
Learn more