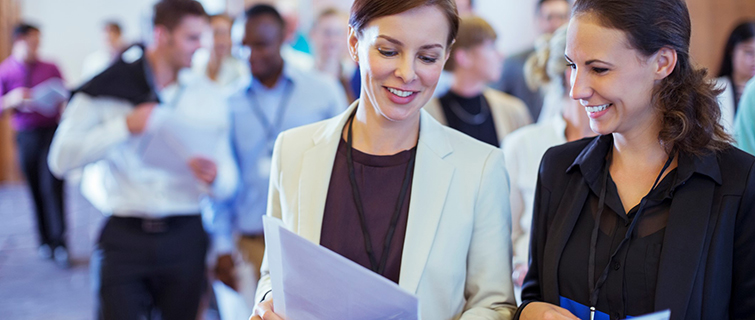 Now, more than ever, networking is a key part of business life. It can lead to finding a new job, new clients, new business opportunities and partnerships and most importantly, a way to learn and understand the world around you.
Even in our digital world we both crave and respond deeply to this basic form of human connectedness. However, while we may know it is necessary, we hate the thought of these sometimes-awkward interactions. It is easier to eat your sandwich at your desk than to go out and meet someone new. Even worse, sometimes after a great connection there seems to be no immediate result.
In the last year at Georgetown, running two master's programs–Master's in Integrated Marketing Communications and Master's in Design Management Communications–I have learned a lot of about networking. I do it all the time to recruit faculty, guest speakers and find interesting projects. I have learned five key things about how to network and why networking should take a higher priority on your 'to-do' list:
Network your own way – I am an extreme extravert, so many aspects of networking are more natural and comfortable to me. I love to meet and talk to people. But still making the time and the effort needed to effectively network wasn't easy. You have to find a way to network that works for you–maybe large networking events aren't your thing but grabbing a quick cup of coffee with someone works. Develop your networking style and set goals for yourself that you try to meet each month.
Networking is a two-way street – My least favorite networker is someone who only meets me to get something out of me. You absolutely should have an intention (I'll address that more below) but once you meet, you should be open to helping the other person out, as well. If they are opening their contacts to you, then open your contacts to them. No one likes a one-sided relationship. To be effective, networking must be a give-and-take or the relationship won't last.
Network with a purpose, but be open – A huge part of networking is about listening carefully. There are many reasons to network: to learn, to advance and help others, to grow in your career, or to grow your business. These are all great reasons to get out there, but when you are meeting someone, don't close other doors. A conversation may not go the way you think, but let it. There were times I went into a meeting thinking I was going learn about one area and I ended up learning about a completely different space. Be open to letting the conversation flow.

Don't put up boundaries. Welcome all industries, levels, and ages – I think this is a huge mistake we make in networking–learn to stretch beyond your current industry, level, and age range. I have discovered–in my meetings with more than 100 people in the last year–that many industries have similar challenges. But the way people approach those challenges can be different.

For example, I was in B2B marketing and communications for years, but now I talk with a wide-range of B2C folks and I realize how I could have used some of their solutions within my own industry. I have also met with professionals at all stages of their career and I have learned something from all of them. Don't fall into stereotypes when casting your web. Young people have amazing ideas and older people can be extremely innovative–be open to learning from all levels of experiences.

The result is almost never instant – Don't expect each networking interaction to pay off immediately. Be prepared to wait. It is hard to predict who and when you will end up working with in the end. I always have faith that when I meet someone I click with, eventually I will figure it out. Don't let your network turn cold either. Be sure to reach out occasionally to catch up, send a short email about something interesting, and continue to feed them leads and ideas. This keeps the relationship going and when you need to reach out for more immediate help, the request isn't coming from out of the blue.
Learn more