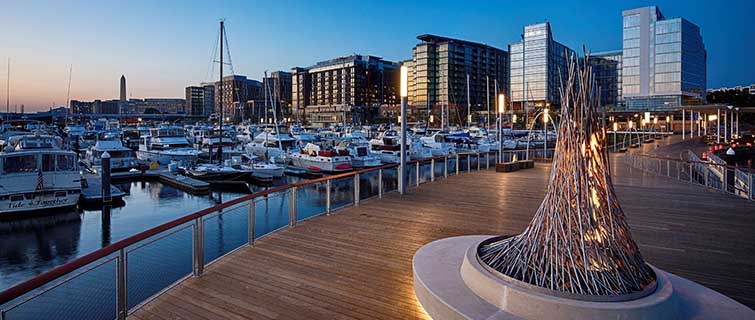 This article is part two of a two-part series, the Magnificent Mix. Read part two here.
Mixed-use projects have grown in importance as developers seek to create 24-hour locations that combine places to live, work, and play. Last fall, Washington, D.C., welcomed two major mixed-use infill projects which represent the fruits of years of labor and planning: The Wharf (1.7 million square feet) and 700 Penn (415,000 square feet). The two projects—both built by Clark Construction—vary greatly in size and their mix of uses; but both demonstrate how their developers have successfully woven together each new project with its surrounding community. These woven connections were necessary not only to secure the myriad of public approvals needed, but also to support the long-term success of each project into the future.
Students from Georgetown University's Master's in Real Estate program met personally with the lead developers of each project as part of their fall courses. Monty Hoffman, CEO of PN Hoffman, the co-developer of The Wharf on Maine Avenue SW along with Madison Marquette, addressed Calvin Gladney's Real Estate Entrepreneurship course; and Ken Golding, Co-President of Stanton Development, conducted a tour of the soon-to-be-completed 700 Penn on Pennsylvania Avenue SE with students in his Ethics in Action course.
This analysis takes a closer look at the rationale behind The Wharf, its planning, and construction.
A Vision of "Organized Chaos"
The guiding principle for The Wharf was to "embrace the water."
"It's magic," said Hoffman. "Something about water relaxes people."
The Wharf was scheduled to be completed in two phases. Phase I, which opened in October 2017, includes a cobblestone street along its waterfront bordered with wooden piers (copied from those in Copenhagen) and two wooden boardwalks that extend out into the Potomac. One of these includes a small amphitheater, while the other offers a sculptured burning bonfire that invites visitors to gather around it. Hoffman describes architect Stan Ekstut as having a vision of "organized chaos, with wonderful surprises around each corner."
A key to the Wharf's appeal is its ability to draw a wide range of visitors, from those who simply wander along its free outdoor public spaces, including children's playgrounds, to others who visit the many restaurants, two hotels, offices, and music venues, which range from New Orleans-style bars to The Anthem, a venue from the owners of the 9:30 Club that can accommodate 6,000 people. The residential neighborhood that surrounds and infuses the project includes townhomes, rental apartments, condominiums, and houseboats. Developers always try to incorporate as much floor area ratio (FAR) as possible on any given site, but sometimes quality at a specific location takes precedence over quantity.
Phase II will offer parallel walkways along the waterfront—both a "streetscape" at the ground level as well as a "roofscape" designed to maximize views from this unique location near the Jefferson Memorial and Haines Point. Water taxis will connect the project via the river to Georgetown and Alexandria, while new steps will make the activity center an easy walk from nearby L'Enfant Plaza, which boasts a "five-color" Metro station serving the Orange, Blue, Silver, Green, and Yellow lines.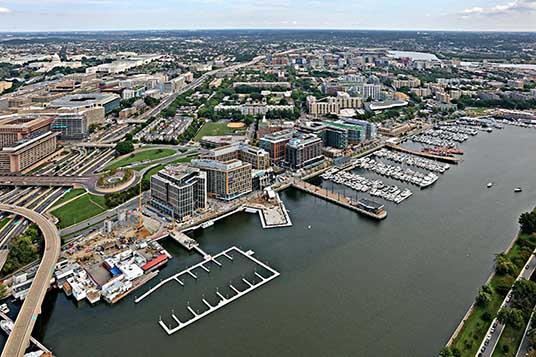 Image courtesy of Hoffman-Madison Waterfront (HMW) Development Partnership
A Win for Persistence
Hoffman, the co-developer, seems well on his way to realizing a vision that others might have written off years ago. At a recent Bisnow event on the future of the Southwest Waterfront, he grinned as he accepted an award from Steve Moore, President of the Southwest Business Improvement District (SWBID).
Hoffman had insisted on holding onto The Wharf project through the Great Recession, even after losing his initial financial partner. He found a new partner in Madison Marquette, led by Chairman Amer Hammour, who was instrumental in developing the retail and placemaking vision.
Said Hammour of the project, "With its 'live, work, play' dynamic, The Wharf has become a landmark destination in the heart of the Capital—offering residents, office tenants, hotel guests, and visitors panoramic waterfront views and activities, world-class music and entertainment, globally distinguished cuisine, and open spaces that invite leisure enjoyment and community connection."
Together, as Hoffman-Madison Waterfront, they somehow managed to open nearly 1.7 million square feet of uses on the same day, working toward a ticking clock mounted on a central billboard for several years.
More than anything else, the project was, as printed on the SWBID plaque: "An Incredible Act of Stubbornness."
This article is part two of a two-part series, the Magnificent Mix. Read part two here.
Learn more