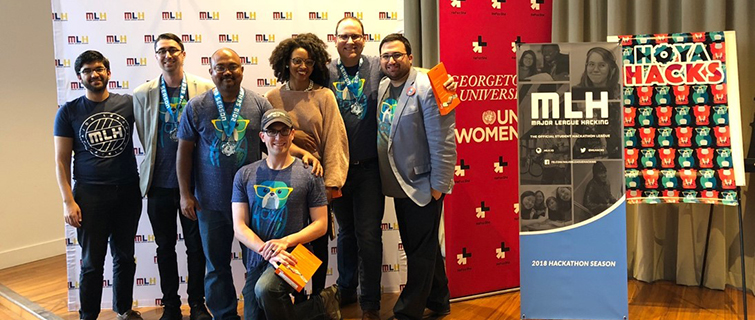 Here's your charge: Come to the Georgetown University Hackathon, Hoya Hacks, with no—or, at least, few—preconceived ideas. Be prepared to work on your project for 36 hours, with occasional breaks for food and sleep. (If you don't have accommodations, the couches or floor at Healey Family Student Center should suffice.)
Now, use your creativity and technical skills to design a mobile app from scratch, one that serves an important societal need, has a relatively high level of complexity, but is easy to use. And do all this with a team of colleagues that you'll be spending a lot of intense hours with over the weekend.
Sound daunting? Maybe a little—but that's part of the attraction.
Addressing Gender Disparity
Sponsored and organized by the Georgetown University School of Continuing Studies (SCS), the annual hackathon took place January 26–28 and attracted some 250 students from more than 40 universities around the country. By the close of the marathon event, a team from SCS—four graduate students from the Technology Management program and one from the Integrated Marketing Communications program—had won three awards.
The team's app, "Motif (Include, Inspire, Educate: Highlighting Women's Contribution to Art and Culture)," won second place overall and received two track-specific awards: second place for an app within the "education" track, and third place for an app's promotion of gender equality within the "gender equality" track.
"We all contributed in our own way," said Donald Ingham, a Technology Management student and U.S. Army Captain currently doing foreign policy research for the U.S. Senate. "We all got along—because we all wanted to be there."
Others on the team—and their team-created titles—included: Phil Crawford ("Planner & Chief"), Jeet Singh ("Data Expert"), Nathan Wallace ("Software Developer"), and Quierra Wells, the lone IMC representative and designated "Super Dope Designer."
When considering ideas for an app that would address gender, Wells found this troublesome statistic: 51 percent of visual artists are women, but less than 5 percent of permanent gallery art pieces were created by women. The team decided to create an app that would chart various galleries in Washington, D.C, and be able to filter the works by gender, so users could find women-created works they might otherwise miss.
Targeting the "Non-Smithsonians"
The team only had time to list about 10 galleries and five works from each. While this exercise used some works from both prominent and less-frequented museums, the likely audience for "Motif" would be "the non-Smithsonians of D.C.," said Wallace, who, in addition to being a graduate student is the Associate Director of Web Development for Georgetown's Office of Advancement. "We're looking at those institutions that don't have the money or the platform and don't know where to start."
Wallace said the team intends to contact StartupHoyas and pitch its business plan.
Maria Trujillo, Faculty Director of the Technology Management and Systems Engineering Management programs at Georgetown, said the Hoya Hacks judges were impressed with the way the team incorporated two distinct variables into one useful app.
"I think it was interesting that they combined information about the less-well-known museums with underrepresented work by women artists," Trujillo said. "To 'hack' something, in the original sense, is to solve a problem, and the team did just that."
Learn more