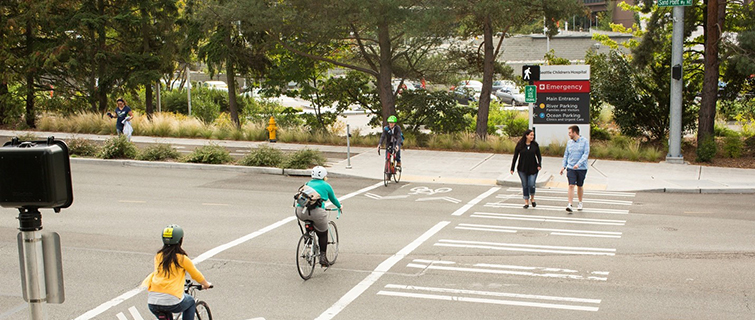 Technology is, indeed, smart. It's fast, versatile, accurate, and user-friendly—and getting "smarter" all the time.
But this is not what Chris Pyke means when he talks about smart cities or the kind of work his class does in his New Urban Technologies studio, a course that combines the skills of students from Georgetown's Master's in Technology Management and Master's in Urban & Regional Planning graduate programs. Whether it's designing a more efficient "last-mile" delivery system for UPS (last summer's project) or more child- and senior-friendly urban spaces (this summer's challenge), the genius is in the process itself, not in the machines that help make it possible.
"The issues we discuss in the class are different, but the underlying concept is constant," said Pyke, Ph.D., research officer for the U.S. Green Building Council. "It turns urban planning into an experimental or adaptive process, which is enabled by new streams of geo-coded data."
A More Livable City
Urban planners are exploring new applications for new information collected by electronic data sensors, cell phones, and other means to collect feedback on multiple urban systems and then improve upon their efficiency. By collecting and analyzing this data, planners improve efficiencies in everything from commuting patterns, building energy consumption, trash collection, street lighting, and air quality management. The ultimate goal is to make the city more livable and sustainable and thereby enhance the health and wellbeing of the people who live and work there.
The class builds on the realization that smart cities will continue to evolve as the sheer volume of data grows, more than half of it now from nongovernmental sources. And it recognizes that an excellent place to help shape that future and direct it toward positive ends is in a university laboratory.
"We don't make up problems," said Maria Trujillo, faculty director for Georgetown's graduate programs in Technology Management and Systems Engineering Management. "We bring the problems of the real world to the classroom."
The class does not deny the risks inherent in big data, such as maintaining privacy in places where an increasing amount of human activity is measured and analyzed. But it also recognizes that the data revolution is already upon us, outpacing society's efforts to contain or understand it, and that it is important to explore its implications.
"Unfortunately, we can't turn back time, and we can't go back and say, 'Oh, we're going to first create the policy and the procedures and then the technology,'" Trujillo said. "It's the other way around. We need to have these discussions in the safe space of the classroom."
An Evolving Metropolis
This summer the class is collaborating with Kaboom!, a national nonprofit that builds safe urban play areas serving all children, including those living in low-income neighborhoods. Students will work collaboratively with Kaboom! staff to design common spaces that can be enjoyed by both children and seniors, whose needs can be met in new ways using information technologies.
"We will be considering the needs of all demographic typologies, but we don't make any single one of them the focal point for developing an urban environment," Pyke said. "We have to be sure to better understand that a livable and secure urban environment for a healthy 28-year-old is quite different than for an 8-year-old or an 80-year-old."
Smart cities, by nature, are always evolving and responding to new forms of user-generated feedback, and so is this class.
"We're deliberately engaging the industry as we devise this new approach to learning," said Uwe Brandes, faculty director for the Urban & Regional Planning program. "There is no standardized curriculum in this space, and the applied nature of our mutual programs makes us uniquely positioned to radically innovate professional practice in this area."
Learn more