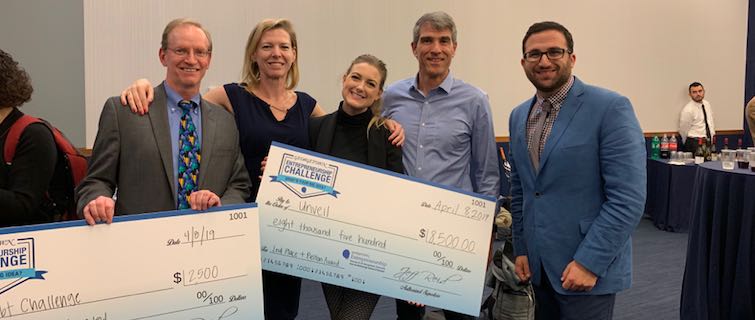 "People for Others" is one of the core values of Georgetown University, so it's fitting that the two winners of the Georgetown Entrepreneurship Challenge from the School of Continuing Studies (SCS) each chose ventures that would serve people's basic needs and reaffirm their dignity.
Katie Fischer, a student in the Master's in Emergency & Disaster Management program, finished second overall in the graduate school competition, winning an $8,500 prize. Her venture, Unveil, is a women's undergarment line that will donate a washable, reusable sanitary product to a woman or girl in a developing country for every undergarment set purchased domestically. She also was awarded $1,000 for winning the SCS Preliminary/Sectional round.
Michael Meyer, a student in the Master's in Technology Management program, won $2,500 for his venture, Debt Challenge, which will enable donors to give directly to people with debilitating debts.
The Georgetown Entrepreneurship Challenge invites students to pitch their ventures to a panel of experienced entrepreneurs and business leaders. The top 12 teams—six undergraduate teams and six graduate teams—advanced to the April finals. The annual event is sponsored by the Georgetown Entrepreneurship Initiative, which is housed at the McDonough School of Business.
A Social Justice Issue
A graduate of Pepperdine University in California, Fischer worked for three years in marketing and advertising, most recently at Universal Studios. While volunteering in Liberia, she learned about the complex issues surrounding menstruation in developing countries—the stigmas women and girls face, and the difficulty they have obtaining sanitary products. When she returned, she enrolled in the Emergency & Disaster Management program, where she is writing her Capstone on these problems, with an emphasis on how disasters and other complex emergencies can exacerbate them.
Lacking access to sanitary products and the means to buy them, women in developing countries sometimes resort to using goat skin, cow dung patties, used cloths from the prior month, or even dirt of leaves for protection, Fischer said.
"Not only is this a sanitary issue, it's an education issue," Fischer explained, noting that around 25 percent of girls in developing countries drop out of school because of menstruation issues. "Overall, this is a social justice issue. Boys are viewing girls differently from a very young age, which further enhances inequalities and deeply ingrained taboos around the world."
Fischer plans to partner with a nonprofit that distributes women's sanitary products in developing countries and use a "one-to-one" purchase-donation model similar to that pioneered by TOMS shoes. She said polls show that 42 percent of millennials—her target audience—are interested in socially responsible investing.
"Millennials are not only responding to businesses that give back and create social good," Fischer said. "They actively seek them out."
A Path to Financial Health
The desire to help people directly is also part of the rationale behind Meyer's venture: Debt Challenge. And it's reflected in the company's slogan: "Solving the mountain of debt … one person at a time."
The success of fundraising websites such as GoFundMe show how people are willing to give when they read about someone in need, said Meyer, who works in financial services. But there are drawbacks: Often, it's hard for potential donors to corroborate the stories they read online or be sure that the money they send will go to the right place.
Debt Challenge addresses these problems through a six-step process: Someone with an overdue debt fills out an online form and uploads proof of the debt—which the organization verifies,—then shares matching information, which Debt Challenge posts. Meanwhile, a potential donor searches the site for people or their debts, selects a meaningful match, and makes a payment on the debt.
Charities also help people in financial need, Meyer said, "but they don't address the root cause, which is the debt itself."
"There's a whole cascading, ripple effect of the debt," which starts a downward spiral from which many people cannot escape, Meyer said.
Debt Challenge plans to help them halt that spiral and start on a path to financial health.
Learn more