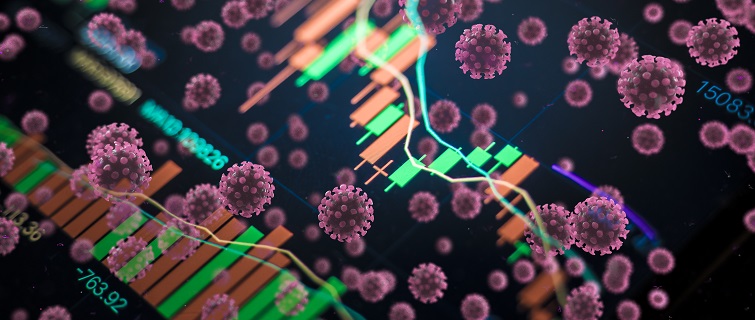 Just the headline alone was encouraging: "'Smart Thermometer' Improves Flu Forecasting"
The Science Daily article goes on to explain how a San Francisco company was able to track the spread of seasonal flu by using cellphone data. Analyzing the individual body temperature reports of almost 450,000 people who bought its "smart" thermometers, the company, named Kinsa, could track the spread of the seasonal flu much faster than using traditional reporting methods. They could even predict where the virus would be in the future.
The article was dated Feb. 8, 2018—two years before the COVID-19 pandemic that has caused tens of thousands of deaths in the U.S. and sent the world economy into a tailspin. But two years later, the Centers for Disease Control is still relying on health department reports and other information that can lag as much as four or five weeks behind cell phone data.
"There's no point in having all these wonderful data sources if nobody is using them to make decisions," said Maria Trujillo, former faculty director of Georgetown University's graduate program in Information Technology (IT) Management. "So, even though the thermometer readings are out there spiking, the CDC wasn't making decisions based on alternative data sources."
Blogs, Forums, and 'Little Murmurs'
Another alternative source is the Canadian company BlueDot, which was able to detect the outbreak in Wuhan, China, on Dec. 31, nearly a week before the CDC, despite the lack of information from Chinese officials. The company uses artificial intelligence to analyze news and medical reports from around the world, which are then studied further by epidemiologists.
"We know that governments may not be relied on to provide information in a timely manner," BlueDot founder and CEO Kamran Khan told Wired magazine. "We can pick up news of possible outbreaks, little murmurs on forums or blogs indicating unusual events going on."
Despite a strong reputation for its handling of previous epidemics, the CDC has been criticized for its flawed response to COVID-19. Perhaps the biggest mistake involved the lack of quality control in producing test kits for detecting the virus, which resulted in a rash of false positives and weeks of delay. By mid-April, the nation continued to experience an acute shortage of tests that medical experts say are needed before states and municipalities attempt to lift stay-at-home orders.
Trujillo says the federal government can do more to reach out to private industries that are using novel methods of detecting and responding to the pandemic.
"I think what we need is a blend of private-public partnership," Trujillo said. "Even though the CDC is doing its best to keep a record of cases reported via institutions like hospitals, there are other sources of information you should look into before analyzing the whole picture."
A World of Information
The Chan Zuckerberg Initiative, created by Facebook founder Mark Zuckerberg and his wife, pediatrician Priscilla Chan, has launched 17 initiatives related to COVID-19, including several that work with other nonprofits, universities, and governments at the federal, state, and local level. Among them is protocols.io, a platform that enables scientists to share research methods; and CORD-19, which has assembled an "Open Research Dataset" in concert with several entities, including the National Institutes of Health, Microsoft Research, and Georgetown's Center for Security and Emerging Technology (CSET).
"In the end, it doesn't matter whether the information is coming from an algorithm or more traditional sources, from private initiatives or government, it will all be needed in the confrontation with COVID-19," Trujillo said.
"The situation of the world now requires us to look at all the different data sources," Trujillo said. "Don't be afraid of information."
Learn more