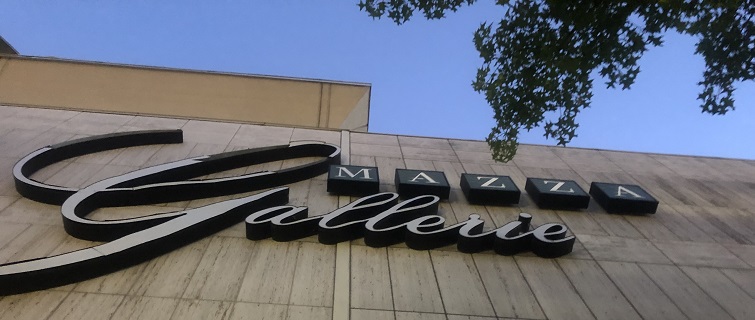 It has everything a developer or urban planner could wish for, but for reasons that go back decades, Friendship Heights just isn't working.
Start with the Metro stop. Other stations in the Washington, D.C., region—Silver Spring, Ballston, Clarendon—have spurred spectacular growth in retail and housing. But nothing similar has happened in Friendship Heights, even though its Wisconsin Avenue station is conveniently located on the Red Line between upscale Tenleytown and Bethesda.
Planners call this "transit-oriented development," the kind of growth that encourages visitors to walk around the neighborhood, use public transportation, and maybe stay a while. By contrast, parts of Friendship Heights exhibit a kind of "frozen-in-time" feel—that time when an upscale community could attract visitors simply by providing a few high-end stores and plenty of parking.
"It's not happening to Friendship Heights because of the absence of an inclusive, integrated, and coordinated vision which maximizes both the social and economic value for the neighborhood and the District of Columbia," says Paul Bernard, who led a semester-long studio on re-envisioning the community for the Master's in Urban & Regional Planning program at Georgetown University.
Now, the recent departures of high-end stores, including Lord & Taylor and Neiman Marcus, have left a vast stretch of vacant storefronts along Wisconsin Avenue. And Friendship Heights, faced with the incongruous distinction of being both affluent and distressed, may be poised to accept—and even welcome—new growth.
"Unfortunately, while the world around Friendship Heights has changed toward a younger, more modern retail environment, Friendship Heights was kind of stuck," says Bernard, a former executive vice president of the Urban Land Institute. "This project was about exploring how to 'unstick' Friendship Heights so that it could have an identity and be more vibrant."
To help Friendship Heights make that transition, Bernard enlisted the aid of Georgetown students from his Spring 2021 Urban Laboratory Class. The students had 13 weeks to study the issue before presenting a detailed plan to community and regional stakeholders. Their goal was to both acknowledge the needs of residents, some of whom have been wary of increasing the community's density, and chart a path that would help Friendship Heights thrive again.
A Bygone Era
Friendship Heights lies on the northwest edge of Washington, D.C., and Montgomery County, Md., with Western Avenue serving as a dividing line between the jurisdictions. Just to the west of Wisconsin Avenue, the neighborhood is an eclectic mix of charming older, and increasingly expensive, single-family homes.
There was a time, in the car-centered culture of the 1960s and early '70s, when Friendship Heights' commercial areas, parking garages, and surface lots would have made perfect sense. But over the years, newer, glitzier shopping hubs have emerged; pedestrian-friendly, street-level stores have replaced indoor malls; and online shopping has made it possible to buy most anything from a home computer.
"Friendship Heights was probably the most luxurious retail center at the time it was built," says Liz Price, former executive director of the Urban Land Institute. "There are now multiple options for that, some of them in more desirable locations that may be more convenient. And so, it's kind of lost its market edge there."While commercial activity is suffering somewhat on both sides of Western Avenue, the distress is more apparent on the District side, where one entire "super-block" that once housed Saks Fifth Avenue and Mezza Gallerie, an indoor mall with the Lord & Taylor and ambitions to house 60 stores, sits boarded up and vacant. (All is not gloom and doom, however: Saks moved a few blocks north, to the Maryland side, which also hosts a Bloomingdale's, Brooks Brothers, Whole Foods, and other high-end stores.)
'A Sense of Place'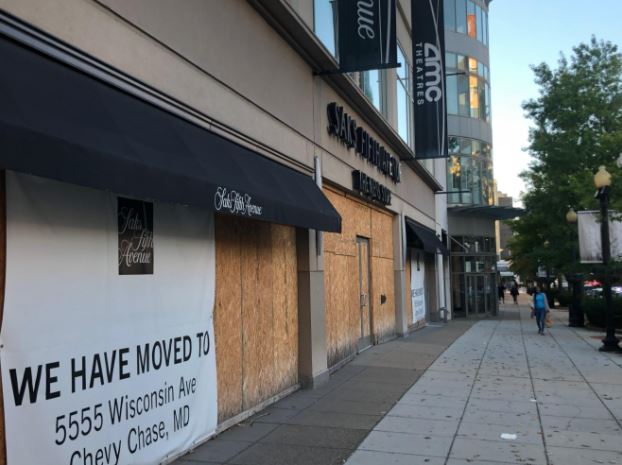 So how does one "unstick" Friendship Heights and move it into the 21st century? Most important for the Georgetown students was establishing "a sense of place" along the commercial corridors of Wisconsin and Western avenues on the District side. And, in order to achieve that, there needed to be more housing density—something the community has long resisted but is now considering given its current problems. The class' plan for "gentle" density would add a mix of low- to mid-rise multi-unit and single-family housing to the corridor, as well as parks, street-level retail, dining, and entertainment.
"Increased land mixture on short, well-connected blocks—those serve as catalysts for creating a more walkable urban environment," says student Andra Roventa.
The Urban & Regional Planning students also considered alternative plans for a Metro bus station and turnaround, with one scenario turning the purely functional bus loop into a focal point for a more dynamic community.
The changes would add between 1,500 and 3,600 households to the area and about 900 units of affordable housing, among them housing for residents in the "missing middle" income level who have been squeezed out of the area's expensive housing market. The proposal aligns with Mayor Muriel Bowser's goal of providing 36,000 new housing units throughout the city by 2025, about 12,000 of these for low- and moderate-income residents in Northwest Washington.
"Increasing the ability for equitable housing access for both current and future residents is absolutely essential for the success of this neighborhood," says student Melanie Goerke, "especially as we seek to broaden the racial and ethnic demographic background of residents within the area, which would eventually allow for sustainability and long-term growth in Friendship Heights."
It would be a different kind of community and a departure from the past. But perhaps Friendship Heights, like the nation, is ready for change.
"Many of the planning challenges we observed in Friendship Heights are not unique," says student Verone Bernard. "In many ways, the future of Friendship Heights is the future of America."
Learn more