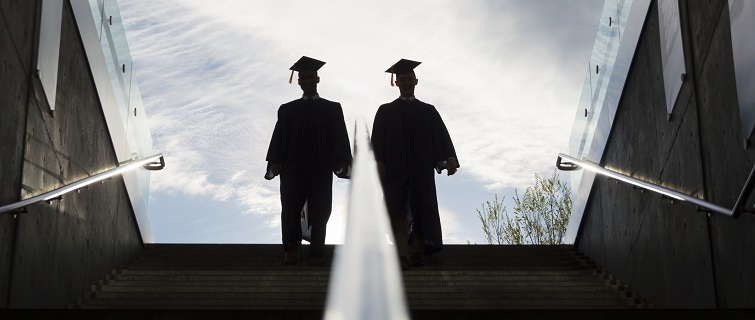 College was something different for everyone. For some, it was where they developed their passion. For others, it was where they found themselves. For others, it was where they made lifelong friends and learned about the world around them.
When you look back on your college years, do you think about the people who admitted you? The people who made sure your student experience was the best it could be? The people who kept the lights on?
As you walked across the stage to grab your diploma, did you think that was the end of your academic career? Or did you know you'd want to return someday to run the place?
For every president, professor, and dean, there are dozens of skilled and enthusiastic people working alongside them. These administrators come from all walks of life, and their education and experience make every institution of higher education unique. Whether you majored in the social sciences, hard sciences, arts, languages, or business, there's a place for you in higher education administration.
Career Options for Higher Education Administration Graduates
Careers in higher education administration are as varied as the institutions themselves. Here is a sampling of possible jobs in this exciting field.
Director of Admissions
The Director of Admissions for a college or university is kind of a big deal. Responsible for all aspects of the admissions process, including recruiting new students, evaluating potential students, and overseeing financial aid, the director has a tangible effect on the makeup and success of the student body and the institution.
Academic Advisor
Academic Advisors get personal. While degree programs and professors get much of the credit for student success, Academic Advisors are there before students attend their first classes and are there after they graduate or move on. Advisors assess students' readiness to begin college, help them plan a course of study, advise students on course selection, and even teach them how to register for courses. And with the many modalities and systems available today, that's no easy task.
Director of Finance and Operations
Running a college or university is a lot like running a corporation. The Director of Finance and Operations oversees the functions, policies, and procedures related to budgeting, human resources, IT, and facilities. Ultimately this leadership role runs all business and financial operations for the institution.
Assistant Dean for Student Affairs
"Like an Academic Advisor, but completely different" is how some have described the Assistant Dean for Student Affairs. The position affects the day-to-day lives of students and is their liaison to the administration. As the champion for the students, the Assistant Dean for Student Affairs reviews and enforces the code of conduct, advises student government, responds to student and parental concerns, and ensures the institution complies with the Americans with Disabilities Act (ADA).
Director of Study Abroad and International Programs
By now you might have noticed a theme: administrators in higher education have to know a lot about a lot. The Director of Study Abroad and International Programs incorporates some of the responsibilities of the Director of Admissions (attract and retain international students) while also overseeing the study abroad, foreign exchange, and English language programs.

If you're looking to start or advance your career in higher education administration, consider earning an online Master's in Higher Education Administration from Georgetown University. You'll gain the specialized knowledge and skills you need to tackle the evolving challenges of this field and implement solutions that incite change and progress.
Learn more