Master's in Urban & Regional Planning
Zachary Flora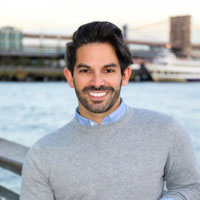 Ward 8 is the poorest ward in Washington, D.C, and its health statistics reflect that status. More than a third of its residents suffer from obesity, yet for a number reasons—including poor transportation options and a lack of recreational facilities—about a third also get no physical exercise. Equally troubling is the fact that, as in many disadvantaged neighborhoods, healthy food is hard to come by.
Zachary Flora, who graduated in 2016 from Georgetown's graduate program in Urban & Regional Planning, is well aware of these deficiencies. But in his Capstone project devoted to improving residents' health through better planning, he also emphasizes the community's attributes.
"I wanted to study the connection between the built environment and public health," said Flora, who received the program's Outstanding Student award. "In planning, we often look at what communities don't have rather than what they do have."
And what does Ward 8 have? For starters, lots of neighborhood schools, some sitting on relatively large areas of unused land. Why not use some of that land for community gardens, Flora said, and then establish farmers' markets at the schools to sell the produce? He said that such an initiative—coupled with a push for bike lanes and other transportation enhancements—could improve public health even as it leverages, and strengthens, community ties.
Flora is now the Associate Director of Market Growth at the Center for Active Design, the leading non-profit organization using design to foster healthy and engaged communities. With an undergraduate degree in Health Sciences, he was looking for a graduate program that allowed him to pursue his interest in the link between city planning and public health.
He found that program at Georgetown.
"I really liked that it gave me the flexibility to work and attend school," Flora said. "This program really fit my needs as a working professional."