Master's in Urban & Regional Planning
Kelsey Robertson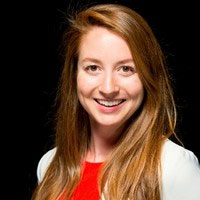 In her research at Georgetown and work as an urban planner, Kelsey Robertson has been especially tuned to how the past, present, and future affect—and are affected by—the nexus of climate change and the built environment.
Not long after completing the University's graduate program in Urban & Regional Planning, Robertson was awarded the 2017 Dick Wolf Prize from the Capitol Hill Restoration Society. The prize cited her master's thesis, which analyzed the impact that climate change and resultant sea-level rise could have on more than 100 historic districts along the shorelines of the Chesapeake Bay and its tributaries.
"Protecting historic resources from climate change is not just important to preserve the cultural site," she wrote, "but also for community resilience."

Before coming to Georgetown and during her time as a student, Robertson worked in the alternative energy sector. At Georgetown, she created a plan to encourage the installation of solar panels on federal buildings in the Southwest Ecodistrict and researched a proposal for Washington Metropolitan Area Transit Authority (WMATA) to receive 30 percent of its electricity from wind power.
Robertson is now an urban planner for VHB consultants, where she is working on the comprehensive mixed-use redevelopment of Washington's Union Station. The project will double the station's train service and triple its passenger capacity. It will also take an iconic Washington, D.C., landmark and enhance its accessibility and connections with the surrounding community. In other words, it will strive to create a sense of place that unites past, present, and future.
And Robertson, with her passion for the environment and sustainable development, will have been an integral part of it.