Master's in Sports Industry Management
Aaron McCollum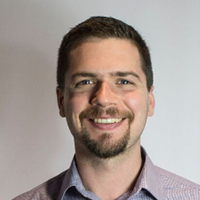 It was 2012 when Aaron McCollum first heard about Georgetown's graduate program in Sports Industry Management. He was interning for DC United and his supervisor at the time had recently completed the program. McCollum was immediately intrigued.
Eager to see what the program was all about, McCollum decided to sit in on a media relationships class, during which a Washington Post sportswriter gave a guest lecture. Instantly, he knew that this was the right program for him.
"I met up with the faculty director right after class and said, 'I want to go here!'"
McCollum is nothing if not enthusiastic, and that passion has helped him climb the ranks at DC United, where he is now a Group Sales Account Executive. While he loves soccer, he enjoys making connections with people even more. One part of his job is arranging group ticket sales for events like Scouts Night, Italian Heritage Night, and Peace Corps Night (when Peace Corps alums come in the jerseys of their former host countries and march in a pregame Parade of Nations around the field). He has also arranged group sales with a number of embassies, including those of Spain, Israel, Costa Rico, Panama, Italy, Finland, Jamaica, and Canada.
Georgetown's program offered McCollum hands-on training, classes with some of the leading figures in sports management, incredible networking opportunities, and an unbeatable location in the nation's capital—which just happens to be the number one soccer market in the country.
"If you want to get into the sports market, what better place to do it than in Washington, D.C.?" McCollum said. "I think you'd be hard-pressed to find a city like D.C. and a program like Georgetown's anywhere else."