Master's in Sports Industry Management
Ta'Shauna "Sugar" Rodgers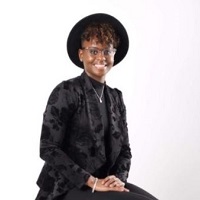 This article originally appeared in New York Amsterdam News. It has been edited for this space.
WNBA All-Star Ta'Shauna "Sugar" Rodgers doesn't hold back in her memoir "They Better Call Me Sugar: My Journey from the Hood to the Hardwood." With admirable honesty, she talks about growing up in poverty, losing her mother in her early teens, and having her life changed by the opportunity to play Division I basketball for Georgetown.
"I'm an introvert, but I just want to give people a look inside my life, and maybe they can understand why I am so quiet," said Rodgers, a "double hoya" who graduated from Georgetown's undergraduate program in 2013 and Master's in Sports Industry Management program in 2021. "I want kids to understand what I went through."
Friends and family encouraged Rodgers to share her incredible story of being her mother's caretaker as her health declined, seeing family members be incarcerated, losing loved ones, and struggling to survive. In her teens, she stayed with various friends and family, with basketball becoming her constant and, eventually, her lifeline.
"It's taught me so many lessons—how to interact with others, how to be determined, how to set goals and then achieve goals," she said. "Basketball has always been a safe haven for me. I share in the book how it kept me motivated to get out of my own head of what I was going through in life."
Rodgers began her pro career with the Minnesota Lynx, which won a WNBA Championship her first season. She played several years for the New York Liberty, and, for the past two seasons, has played for the Las Vegas Aces, which advanced to the finals in 2020. Her goal is to coach in the NBA or in Division I men's or women's college basketball.
"Graduate school opened my eyes to how knowledge is power," Rodgers said. "We shall see what happens in my life."