Online Bachelor of Arts in Liberal Studies
Miguel Aguero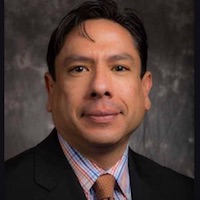 Twenty years ago, Miguel Aguero wrote a letter to the editor of El Nacional, and in Venezuela in the late 2000s, that was a subversive act.
Aguero paid dearly for standing up to the growing authoritarianism of the late Hugo Chavez. He was jailed as a political prisoner for three months, and tortured. His family was able to pay to have him released, and he immigrated to the United States, a political refugee, alone in Washington, D.C.
That's where Georgetown came into the picture.
"The University, for me, has been a second house, a second home," he said.
A few years after coming to Washington, he enrolled in the Bachelor of Arts in Liberal Studies program at Georgetown's School of Continuing Studies. In 2017, after many years of working for groups that do social justice work, as well as taking classes at Georgetown, he earned his degree.
When another country takes you in and a university there offers unwavering support, you give back, and that is what Aguero has been doing his entire time in Washington. He tries to live by the Georgetown tenant of "people for others" and, over the years, has worked as a consultant for the Pan American Health Organization, a coordinator for National HIV Testing Day, and as a research assistant at Georgetown's Center or Applied Research in the Apostolate (CARA).
Now he is a staff assistant for the legal clinic at the University of the District of Columbia's David A. Clarke School of Law, which provides real-world training for law students and legal assistance for disadvantaged D.C. residents.
"The clinic is like a law firm in the University," Aguero said. "We provide services to people of low income—people who can't afford the services of a lawyer."
Aguero has had more than his share of hardship since leaving Venezuela and his family behind. He suffers from Posttraumatic Stress Disorder as a result of the prison torture, and in 2014, lost his partner of six years to cancer. He counts Georgetown—and particularly the encouragement of Assistant Dean Trey Sullivan and CARA Director Mark Gray, Ph.D.—for urging him to persevere and keep working toward his degree.
"It took me 10 years," he said. "But I did it."