Master's in Emergency & Disaster Management


Leslie Schwene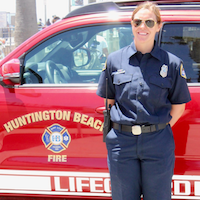 When Leslie Schwene was 9 years old, her mother signed her up for Junior Lifeguards. They lived in Huntington Beach, California, and Leslie's mom wanted to make sure she would be safe in the ocean.
She did become safe in the ocean, too. But that was just the beginning.
"I just loved it," Schwene recalls. And it wasn't long before she announced to her mother: "You know, I want to be a lifeguard."
So when Schwene reached 17, she became a regular member of the force, and that passion for helping others and keeping them safe stayed with her—while she was an undergraduate at the University of Southern California and, two years after graduating, when she applied to Georgetown's graduate program in Emergency & Disaster Management.
"I think an ocean lifeguard, as a first responder, makes a unique candidate for the program," Schwene said.
She was right about that. In fact, for her Capstone, she wrote a paper on the risk perception and risk management regarding sharks.
Schwene said Georgetown's program "has given me a better understanding of how the system works and how different parts fit in."
In her job as an Ocean Lifeguard III for the Huntington Beach Fire Department, Schwene supervises a team of lifeguards patrolling five miles of beach. On a busy summer day, they can get as many as 60,000 visitors.
Unlike those who respond to hurricanes or floods, she's not dealing with one-time catastrophes; it's more like a constant stream of individual emergencies, although at times a rip current can threaten 10 or more swimmers.
"I think what I really love is the tangible impact of saving people's lives and helping people," Schwene said. And every so often, if not completely traumatized by the experience, one of those swimmers will come back and say thank you.