Master's in Emergency & Disaster Management
Lizz Floro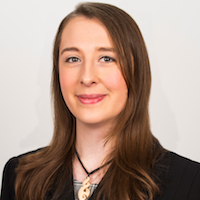 Whether rushing to a house fire or evacuating residents from a flooded street, emergency response owes a lot to the skill and bravery of a few individuals.
Emergency management has a different emphasis; it requires practitioners to build on the kind of big-picture skills that many—having been first responders themselves—developed on the frontlines of a disaster. These skills include observation, analysis, detailed planning, and, most critically, the ability to collaborate with a variety of people and groups.
"No one 'owns' anything in emergency management," said Lizz Floro, a recent graduate of the Master's in Emergency & Disaster Management program. "The moment you've set yourself up as the sole expert, you've failed."
Floro noted an emerging concept in emergency management called the "whole community approach." Certainly, FEMA and local emergency agencies will continue to serve disaster survivors. But with the scale and severity of disasters growing, the government needs the support of all stakeholders: nonprofits, faith groups, civic organizations, and businesses, just to name a few.
In her job as a contractor for FEMA's National Integration Center, Floro supports the whole community approach through project management, technical writing, research, training, reporting, and presentations. A U.S. Marine Corp veteran and graduate of Goucher College in Maryland, she chose Georgetown for her graduate work because of its veteran-friendly environment and its emphasis on not simply the "what" of emergency management, but the "how" and "why."
"As an emergency manager, I may know that I need to form a stakeholder committee for a new mitigation project," Floro said "How to form this collaborative team, whom to include, and why different styles of meetings may/may not be a good fit are some of the experiences this program provides.
"It's more than technical training. It's a thought process.