Master's in Emergency & Disaster Management
Katie Fischer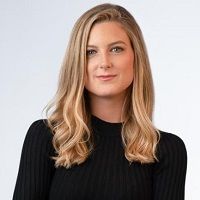 For many people, it might sound like a dream job: Creative Advertising at Universal Studios in Los Angeles.
But Katie Fischer felt drawn to something different. So, after more than a year of working on movie trailers and other advertising campaigns, she left Universal to volunteer to support at-risk youth in rural Liberia.
That might seem like an enormous leap to many, but to Fischer it felt right. And, weeks after returning from Africa, where she had met Peace Corps specialists in disaster management, she took another step down that path, moving to Washington, D.C., and enrolling in the Master's in Emergency & Disaster Management program at Georgetown University.
While at Georgetown, Fischer founded the University's first American Red Cross Club and was president of the leadership arm of the emergency management program. And, in May 2020, she was awarded Entrepreneur of the Year for her venture, Unveil, a high-impact social enterprise that will deliver high-quality menstrual products to underserved communities.
For her capstone, or final project, she conducted research at the Rohingya Refugee Camp in Bangladesh to evaluate a unique humanitarian response to menstrual hygiene management.
A few months before graduating in 2020, Fischer became a Development Associate at CARE, an international anti-poverty nonprofit with a particular focus on women and girls. The job draws on both her knowledge of emergency management and her previous experience in marketing.
In the future, Fischer would like to move more directly into humanitarian work while continuing to build her startup. She said Georgetown's broad-based program is ideal for this type of move because it prepares students for myriad possibilities in this critical, expanding field.
"This program prepares you in diverse ways," Fischer said. "So you can really take this degree and run with it."