Master's in Emergency & Disaster Management
Jeremy Bernfeld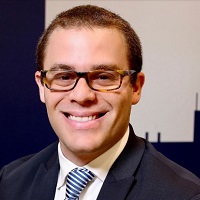 Everyone's job has challenges: it's just that Jeremy Bernfeld's are a little more, well, existential than most.
As a Management and Program Analyst at FEMA's National Preparedness Directorate, Bernfeld is part of a team that develops the National Preparedness Report to Congress and the President.
"Our team assesses the state of national preparedness for all disasters," said Bernfeld, a 2019 graduate of the Master's in Emergency & Disaster Management program at Georgetown University.
While that might sound daunting, the truth is Bernfeld has been preparing for this kind of work all his life. While a student at Eckerd College in St. Petersburg, Fla., he joined the school's maritime search and rescue program and later created an emergency medical services team that serves the college community.
Later, he served as a search and rescue park ranger at Grand Canyon and Yosemite national parks. It was the kind of challenging, service-orientated work that Bernfeld loves. But it was also seasonal, and he needed something for the long-term. That's when he turned to Georgetown.
At Georgetown, Bernfeld learned from peers and faculty members who shared his passion for emergency work and truly cared about the progress of everyone in their close-knit group.
"Everyone in that program works in different sectors of emergency management," Bernfeld said. "So, meeting those folks and developing lasting relationships with them has enabled me to have a network of professionals I can call upon or ask for help if I need expert advice in a certain area."
So, why emergency management? For Bernfeld, the answer is self-evident.
"It's a field of helping people, one that's constantly evolving—which keeps things interesting," he said. "It's rewarding, and the work that you do has a meaningful impact on people's lives."