Master's in Emergency & Disaster Management
Michael Montino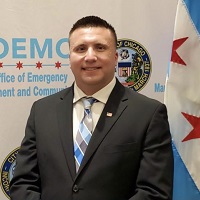 Michael Montino has some advice for prospective Georgetown graduate students. It's both encouraging and challenging, and it applies equally well to his field—Emergency & Disaster Management—and to the other professional studies programs at the School of Continuing Studies.
"When they become a Hoya, there is an ingrained expectation of them," Montino said. "Doesn't matter where they come from. Doesn't matter where they went to undergrad. When they become a Hoya, employers and internship coordinators will have an expectation that they are going to provide high-quality work."
Why is Montino, a firefighter for the Melrose Park (Ill.) Fire Department, so sure of this fact? For starters, he has his own extraordinary story to draw on. A graduate of Eckerd College, where he majored in anthropology and environmental studies, he has been involved in emergency services since high school, when he volunteered at a local emergency management agency.
Montino started the program online in 2019 and in 2020 was offered a coveted internship at Chicago's Office of Emergency Management & Communications.
"I figured I would job-shadow … do things that a typical intern would do," said Montino, who will graduate in 2021 and plans to work in emergency management. "And I was kind of knocked off my feet when the intern coordinator said, 'We would like you to help write this plan.'"
Montino was referring to the city's disaster recovery plan, for which he served as a lead author. Apparently, his supervisors looked at the then-24-year-old graduate student, and his record of public service and academic achievement, and liked what they saw.
"Anybody coming to the program is going to be given a lot of opportunities, but they're also going to be held to high standards," Montino said. "People before them set the precedent."