Online Master's in Applied Intelligence
Nate Miller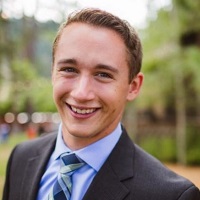 If the words "Red Cell" conjure images of spies, espionage, and counterterrorism—well, then former CIA Director George Tenet, who came up with the term on Sept. 12, 2001, accomplished his goal.
"He wanted it to sound alluring and conspiratorial," according to a 2015 article in "Foreign Policy."
A Red Cell is a unit within an organization that does "alternative analysis." It raises the "what-if" questions that others never think to ask.
Shortly after starting the Master's in Applied Intelligence program at Georgetown, Faculty Director Frederic Lemieux created a student-run Red Cell to work with the D.C. Chamber of Commerce on cybersecurity. The unit helps businesses that, in Lemieux's words, "don't know where to start" in protecting themselves from cyber-attacks. And it provides unique training to students like 2d Lt Nate Miller, a 2019 graduate who now works in cyber communication for the U.S. Air Force.
"I learned how to think critically and try to avoid biases that would have never even entered my mind," said Miller, who completed the program online and is now based at Hurlburt Field in Florida. "When you're looking at things that could go wrong, a lot of people look in the flashier areas, but the truth is, there are hundreds of ways. You go after it thinking of the attacker's point of view."
A former rower on the University of Michigan's national champion crew team, Miller has the aptitude and work ethic to succeed in the field of cybersecurity. And, because of Georgetown, he now has the skills he needs as well.
"For someone coming into the cyber field, it was a great introduction," Miller said. "And it set me up to know the basics and put me ahead of people who were trying to learn at the job."